Okay so my bad, I wrote this post a million years ago and forgot about it... opps! It's good timing though, as n
ow that I'm off work for the rest of the pregnancy and we need to be more careful with our money again, it reminded me I should do a large crock pot freezer meals session.
When The Husband and I were first married, I was going to school as well as working and The Husband was in the Reserves and working. We were busy and made much less money then we do now. I was psychotic about our spending, especially with our food budget. I planned every meal and never bought groceries from any where besides Aldies and without a very specific detailed shopping list. I made many things in the crock pot so that food would be ready whenever one of us was home; mine automatically switches to warm when the timer goes off, I love that feature!
Since going to work full time with the State, I've gotten lazy, especially with dinner. I try and glance at the sales ads but don't do a great job. We eat out too much and I spend way too much money on groceries that I pick up after work.
So I decided to go back to my roots, crock pot freezer meals. We have a small fridge which means a small freezer so I really only have room to freeze 2 weeks worth of meals at a time if I play freezer tetris when the freezer is near empty.
The first step in making crock pot freezer meals is planning. I took a look at what I had in my cupboards, the sales flyers and a look at recipes I know we will eat. After doing this, I came up my list of 7 freezer crock pot meals.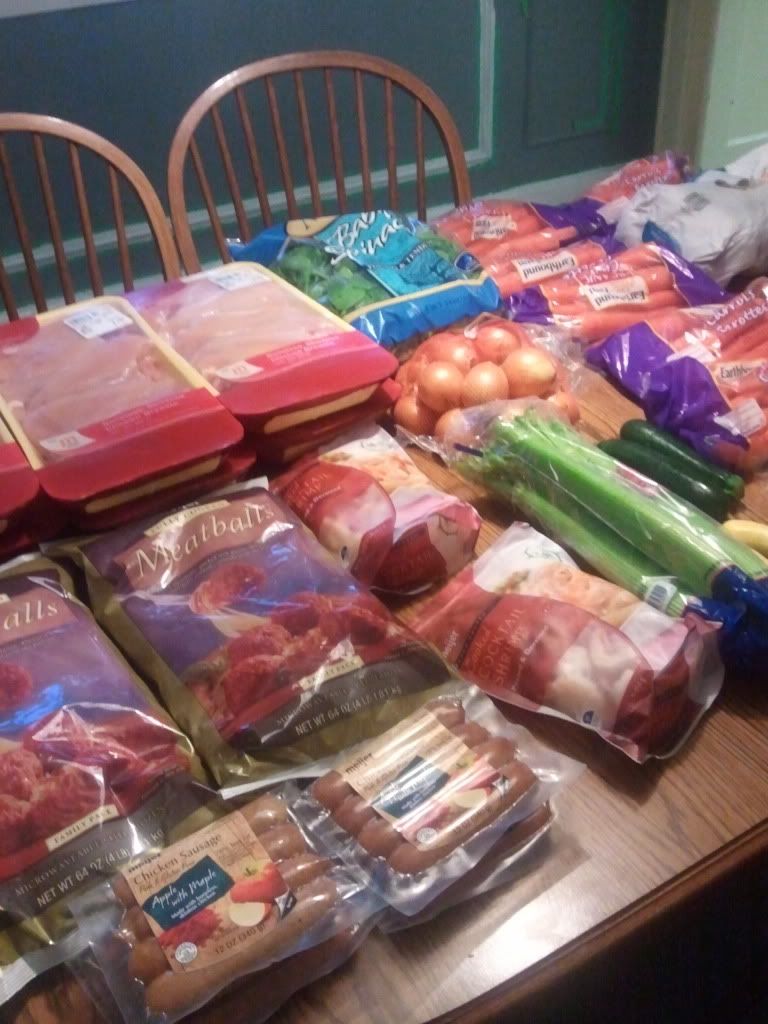 With my recipes planned out, I went grocery shopping using the following shopping list. I already had basics like spices and spice mixtures, broth, mustard, sauces like bbq and teriyaki marinade and other pantry staples. Add these to your list if you don't.
Below is the shopping list for making the 7 meals only, double everything below if you are making 14 meals like I did.
18 chicken breasts
64 oz meatballs *I use premade ones but feel free to make your own
2lbs sausage
16oz shrimp, raw with shells off
3 lbs carrots
1 lb potatoes - any variety
5 medium sized onions (I don't measure my onions, I just say 1 medium equals 1 cup)
5 green peppers
1 small zucchini
1 small summer squash
32 oz spinach
1 head of celery
1 fresh, cored pineapple *1 16 oz can of pineapple chunks + juice works also
4 29 oz cans of tomato sauce
12 whole roma tomatoes
1 64 oz can of vegetable or V8 juice
8 oz greek yogurt
1 8oz package of cream cheese
16 oz (or 1 pint) heavy whipping cream
The total cost of my groceries was $116 for 14 meals. Some of the things I bought on sale were chicken for $1.89 a pound, 2lbs of organic carrots for $1, 1lb of potatoes for $1, tri-colored peppers for $1 each, 16oz shrimp for $5.50 and 12 oz chicken sausage for $3.
I already had on hand the roma tomatoes and tomato sauce (my in-laws went a wee bit crazy during canning seasoning and my cupboards are overflowing with canned tomato in every form plus frozen whole tomatoes, so yay for me!). Adding another $10 for these items and to get to a nice number for each meal, I figured total was $126 or about $9 for each meal. Considering that each meal has at least 6 servings, that makes each serving about $1.50 each.
The meal extras like rice and other sides I did not include in the costs because depending on what you serve with it, this is going to vary widely for each family. I figure I will still need to pick up between $5-$15 a week for the add on's for my families dinners.
Once I got everything home, I sat down and labeled all of my ziplock bags. I put the recipe and the directions for the slow cooker as well as any notes about what should be served with the meal. This serves as a reminder for me in the morning to pull out whatever needs to go with it.
The next part is the biggest time consumer besides the actual grocery shopping and planning. Pealing veggies blows but watching Netflix helps. I used my food processor to speed up the process where I could (carrots, onions, celery and green peppers). I chop all of my veggies the same, slightly chunky, no matter the recipe. It saves time and for crock pot meals, it helps them all cook the same (carrots though are the slowest cookers).
I didn't keep track of how long it took because honestly, I prepped these all over two days. But I will be honest and say there is no way it only took me 2 or 3 hours like most freezer meal posts say they should take you. They must be more motivated/less ADHD than I am.
Once all of the veggies were prepped, I put the meat in the bags, added all the veggies and any sauces or spices that will fit. Some people do it veggies, seasoning and then meat on top so when you dump it the meat is on the bottom, I find it makes no real difference. Sometimes not all of the ingredients will fit in the bag, but I have noted that below. I take each bag out the night before and by the morning they are ready to be poured into the crock pot! Sometimes the recipes are more watery or liquidy than I expected so I just leave the lid off the last half an hour to reduce it down.
These meals are more than enough for dinner for the 3 of us, with lots of left overs for lunches the next day for The Husband and myself*. I planned on doubling each recipe to get to 14 freezer meals.
*
Updated: Ok so when I said this all makes a ton of food, I mean, A TON. Like barely fits in the freezer bags and fills up my huge crockpot to the top, we have 2 nights of dinners and a day of lunches to pack for each of us for work, full. You could very easily split each recipe below into 2 bags, for a total still of 14 bags, using just the list below without doubling it. Because really, you know your family... add less meat, add more, whatever works for you.
Below are the recipes for a single bag only. Although I doubled each recipe to make 14 bags total, each recipe below is what actually goes in one gallon size freezer bag.
About freezer bags, I don't know if there is a better, eco-friendly way to store freezer crock pot meals with raw meat, but this is how I store mine. I try not to feel too bad about them because I wash and reuse them as long as I can.
Ranch chicken
6 chicken breasts
2 cups carrots, sliced
4 cups potatoes, peeled and cubed
1/2 cup onion, diced
1 cup greek yogurt *sour cream works just as well too
1 8oz package of cream cheese
1 packet ranch seasoning
1 cup powdered parmesan cheese
Cook on slow for 6 hours.
Shredded Teriyaki Chicken
6 chicken breasts
2 cups carrot, sliced
1/2 cup onion, diced
1 cup fresh, cored pineapple, cut into chunks
3 cups teriyaki marinade
1 tablespoon minced garlic
Cook on slow for 6 hours.
Butter Chicken *this is not at all authentic and very insulting to a former boyfriend from Madras who taught me the real version but is my quick version I've adapted over time cause I'm not 19 anymore with loads of downtime.
3 tablespoons butter
3 tablespoons
garam masala
1 cup onions, diced
2 29 oz cans of tomato sauce
8 oz heavy whipping cream
2 tablespoons honey
6 chicken breasts
This is the only slow cooker recipe I don't dump right in; the sauce makes the difference and takes 10 minutes to make. Melt the butter on low in a pot and add in your garam masala; stir the butter and spice mixture until it begins to bubble but not burn. Add the onions and saute them in the butter spice mixture. Add the tomato sauce, heavy whipping cream and honey and mix well. If you are freezing at this step, let the sauce cool completely before adding chicken breasts and then freeze.
Cook on slow for 6 hours.
Jambalaya
1lb sausage, sliced
16oz raw shrimp, peeled and deveined
29oz tomato sauce
6 roma tomatoes, diced
1 cup onion, diced
1 green pepper, diced
1 cup celery, diced
3 cups chicken broth *add this the day
1 teaspoon minced garlic
1 teaspoon Worcestershire sauce
1 tablespoon
creole seasoning
3 bay leaves
Cook on slow for 6 hours. If you are worried about rubbery shrimp or you are going to cook this on high wait towards the end of the cooking time (we don't seem to mind in our hoyse but you may).
If you are going to add rice to this, make the rice right before you eat and add to each bowl. Cooking it in makes gummy and gross.
Zuppa Toscana
1lb sausage, sliced
1 cup onion, diced
3 cups potatoes, peeled and cubed
16 oz spinach
5 cups chicken broth *add this the day of as it won't fit in the bag
8 oz heavy whipping cream
2 tablespoons minced garlic
salt
pepper
Cook on slow for 6 hours.
Meatball and Veggie Soup
32 oz of meatballs *add this the day of as it won't fit in the bag
6 roma tomatoes, chopped
2 cups carrots, sliced
1/2 cup onion, diced
16 oz spinach
2 cups green peppers, diced
1 cup zucchini *this will be mushy and soft, add the last hour if this bugs you
1 cup summer squash *same here
1 64 oz can of tomato or V8 juice *add this the day of
1 tablespoon minced garlic
1 tablespoon dried oregano
1 tablespoon dried basil
1 tablespoon dried parsley
salt
pepper
Cook on slow for 4 hours. Add all final ingredients the last half an hour if you're opting for that. To change up the leftovers, I will boil rotini pasta separate and add it in at the end, but it's great soup without noodles too.
BBQ Pineapple Meatballs
32 oz of meatballs
1 cup fresh, cored pineapple chunks
2 green peppers, diced
1/2 cup onions
2 cups bbq sauce
1 cup water
Cook on slow for 6 hours.
And there you go! We don't eat all of these in one week, it is a lot of food for us when taking into account the leftovers.