I wrote the other day about book club and my menu. While the cold shrimp and veggie pasta salad is tasty, it's also healthy. And healthy is great but sometimes you just need melted cheese. Lots of melted cheese.
I first saw this recipe over at How Sweet It Is and while it looked yummy, I was a bit lazier than it called for so I used it as starting point and changed it just a bit. I swapped out the tomatoes for chopped up pepperoni slices and used dried pizza seasoning instead of fresh herbs. It was still very yummy and was so very bad for us. Enjoy!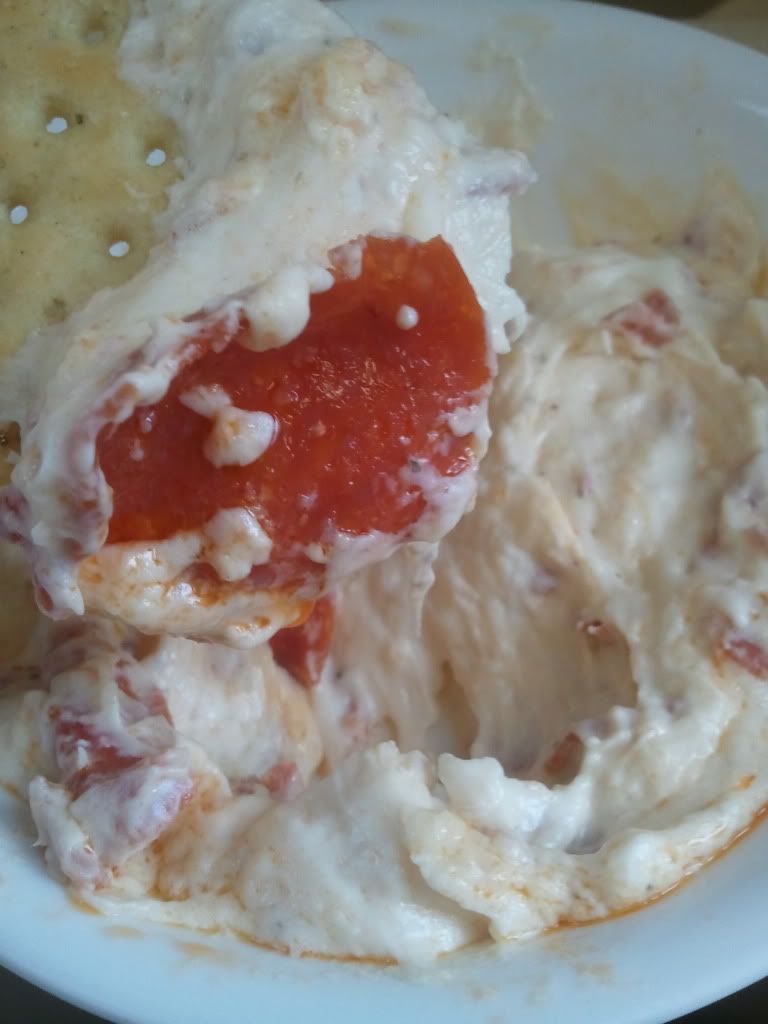 Pepperoni Pizza Dip
I made this the night before but it was so fast to throw together I could have done it the day of. If I remade this I would probably add green peppers, mushrooms and other pizza toppings I like personally. I just kept it simple pepperoni pizza for a large
group. This fit in an oval baking dish I have that says it's 1.5 quarts, but I think an 8x8 would work great too.
Ingredients
1 1/2 cups sour cream
16 oz (2 blocks) of softened cream cheese
2 cups shredded Italian blend cheese
3 tablespoons milk
1

cup diced pepperoni slices
1 tablespoon dried pizza seasoning
pepperoni slices - enough for a layer or two
1/2 cup freshly shredded parmesan
Directions
Mix all forms of cheese, milk, pizza seasoning together and diced pepperoni together.
Bake for 15 minutes at 400 degrees.
Remove and top with a layer of pepperoni slices. Then sprinkle with shredded parmesan.
Bake for another 5 minutes or until bubbly.