If you're not already on the Greek yogurt band wagon, you're behind. It's every where and everyone sings it's praises as a high protein, healthy alternative to regular yogurt that is the greatest thing since sliced bread.
I'll be honest though, I don't know or really care about it's healthful benefits, I just like the tanginess it adds to dishes.
So when a friend hosted book club last month and made oh so yummy artichoke dip, I knew I needed to make it. Thankfully she shared the recipe which was cream cheese based with cooking creme added. Based off what I already had in the house and what was on sale, I slightly altered the recipe to make this hot spinach and artichoke dip with Greek yogurt. It was the perfect appetizer for movie night.
I am in no way saying this is healthy, I'm certainly not the one to be giving nutrition advise. Swapping Greek yogurt for mayo might help but considering the amount of cooking creme in it, maybe not. By the way, for a fascinating read from foodies and their skepticism of this product, nothing beats an open comments section on The Kitchen. Why did I use it? Easy. It was super on sale, less than knock off cream cheese and it already has seasonings in it.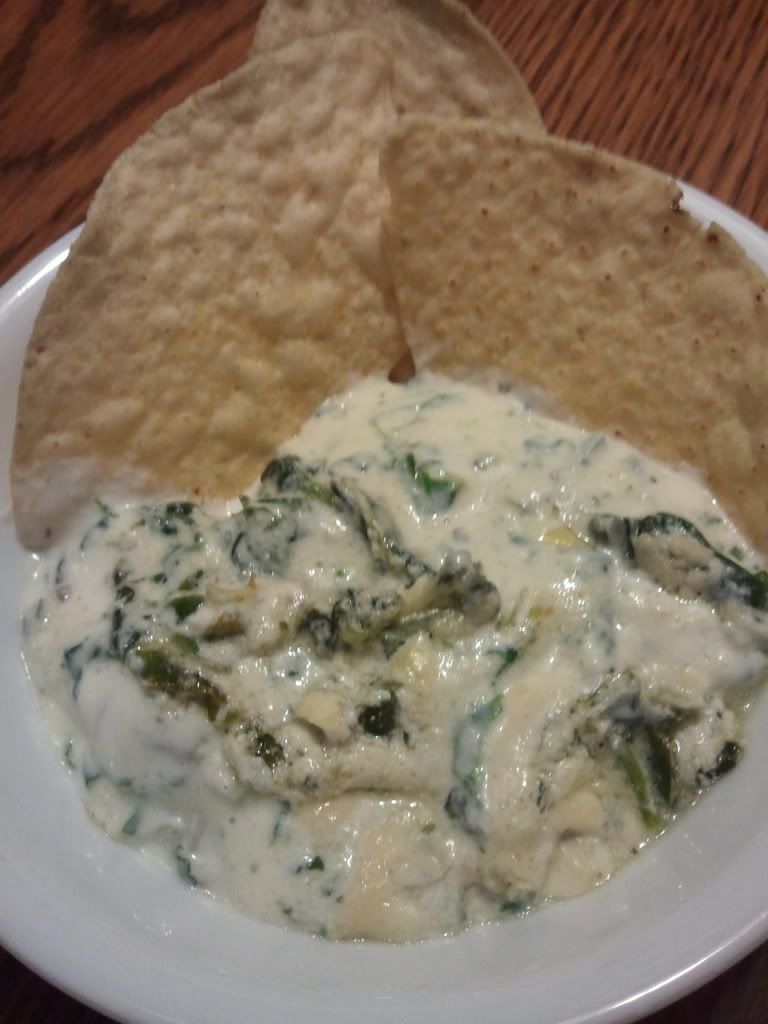 Hot Spinach and Artichoke Dip with Greek Yogurt
While this doesn't taste exactly like the kind you get at sit down restaurants, I liked it better. The combination of the Greek yogurt and the hint of lemon made the dip both tangy and savory. This made a ton of dip, enough to fill a 9" cake pan (it was clean and handy) and tasted great reheated the next day.
Ingredients
6 oz artichoke quarters
9 oz frozen spinach
4 tablespoons butter
pepper to taste
1 10oz
Philadelphia Cooking Creme - Savory Lemon and Herb
24 oz plain Greek Yogurt
1/2 cup shredded parmesan cheese
shredded parmesan cheese - enough to sprinkle on top
Directions
Sautee the artichoke quarters and spinach in butter and pepper. Drain any remaining liquid or it will make your dip thinner.
Mix the cooking creme, greek yogurt, parmesan cheese together.
Add artichoke and spinach to yogurt mixture. Sprinkle top with parmesan.
Bake at 400 degrees fot 10-12 minutes until bubbly and warm. Serve with chips or veggies.