I will be honest, before I met The Husband and had A. I never once had any intention of ever having a Star Wars nursery. No. Not even once. Even having My Dad as a Star Trek, computer programing, sci-fi geek, not one thought.
But slowly, I gave into the idea when A.'s room turned over into Star Wars from outer space robots.
If we were to have another little boy, A. and the new baby would eventually share a room. And while any future boy is of course able to make up his own mind about Star Wars, liking it while living in our house appears to be the best choice.
I think that a Star Wars nursery can go right if you remember not to have it every where in the room. I feel like we've found a good balance already in A.'s room and really I would just be adding a crib with sheets to his room. I would end up buying a second crib to match A.'s so that the beds would match. I am one of those weirdo's who actually liked their convertable cribs.
Anywho, I wanted to make up a board, pretending I was starting from scratch. Isn't that crib fantastic? It cost more than our first bed, box spring and frame put together. That's a snazzy crib.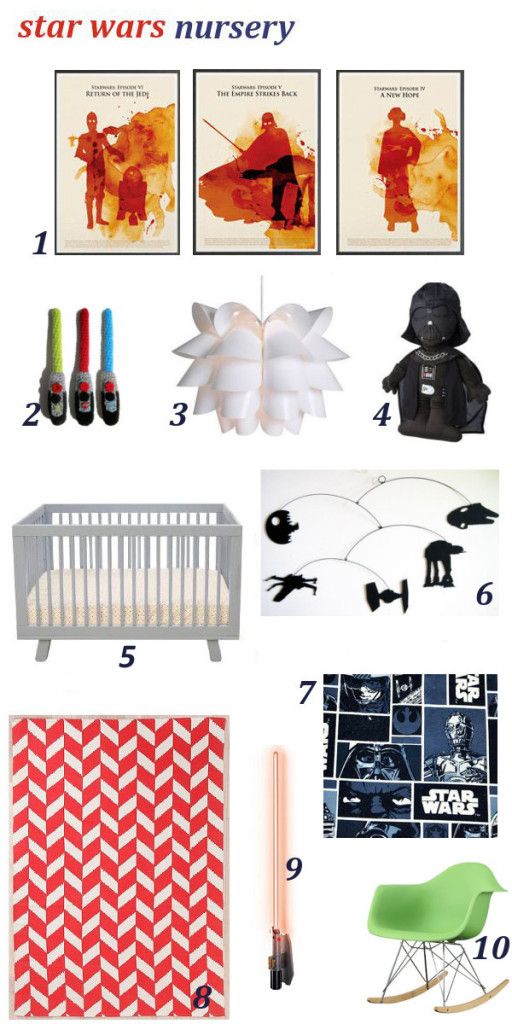 2) Star Wars knitted lightsaber rattle - $25
3)
Ikea knappa light
- $25
4)
Darth Vader pillow
- $20
5) Babyletto Hudson 3 in 1 crib in grey - $400
6) A long time ago in a galazy far far away crib mobile - $36
7) Star Wars cotton crib/toddler sheet - $35
8) Red herringbone rug - $89 for a 5x7
9)
Star Wars Remote Controlled Lightsaber Room Light - $30
10) Lexington green rocking chair - $130