When I hosted book club I had posted a few recipes I had made, the pineapple salsa and the caprese salad on a stick. The one I didn't post was making mini mac and cheese cups.
I got the recipe from pinterest and aparently I'm the only idiot who couldn't make it work. I think maybe because I tried to rush it and used store bought mac and cheese. I don't know. But it failed. The bottom crust was too crumbly and while my friends ate it, it wasn't a pretty sight.
This got me thinking, maybe if I make the base for the mac and cheese out of something else. What else? Bacon. Bacon is always the answer.
It turns out lots of other's have had this idea as well. MerrimentDesign has a fantastical tuturial on how to make a large bacon cup that were inspired by Not Martha who also has a beautiful tutorial.
I tried this, but of course, my own way. Which resulted in less than steller results. Not that it didn't work and not that the cheesy bacony goodness wasn't awesome just as in, this recipe takes too damn long to make. I suppose if I was making these for friends and wanted to show off, I would make them again. But just for The Husband and A.? No, no I wouldn't. Why? Cause they don't care what form bacon comes in, as long as there is bacon.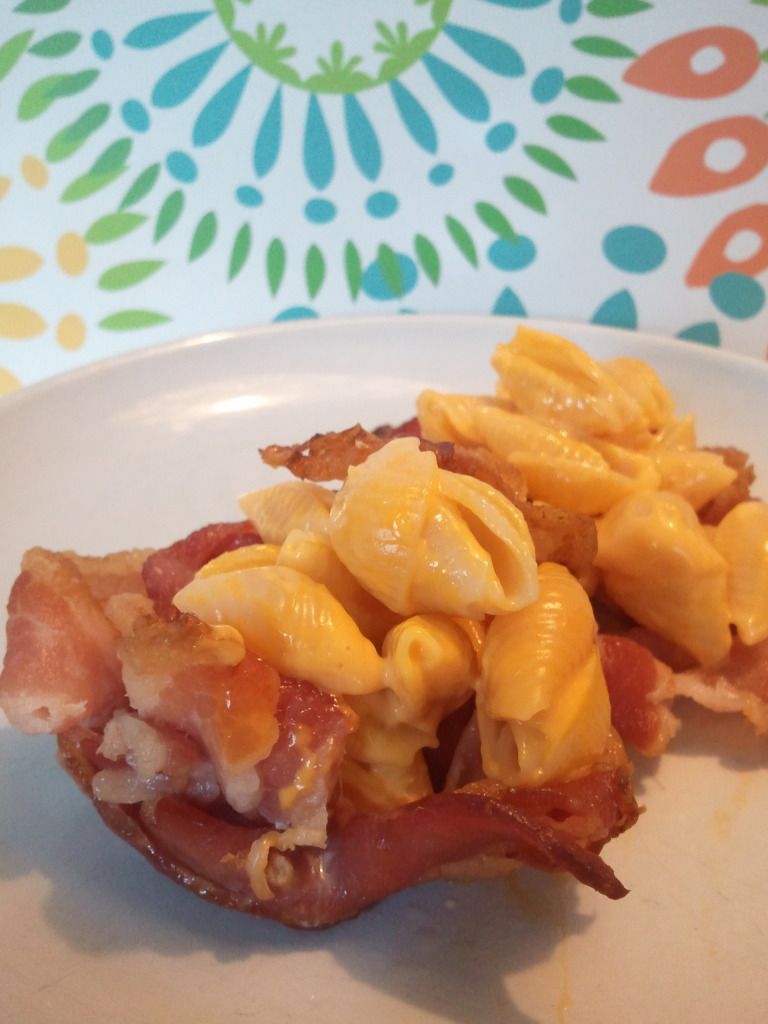 Bacon Mac and Cheese Cups
These did taste good, definitly not good for me, but oh so tasty.
Ingredients
shell mac and cheese - or whatever kind you like, home made or in the box, cooked
1 8oz pkg of bacon - I used the thin kind
Equipment
paper to
wels
olive oil spray
jumbo muffin tin
Directions
Take your paper towel and rip it in half. Then fold it and put it inside the jumbo muffin tin. Spray with olive oil and form it around the muffin tin.
Take one piece of bacon and fold it over on it's self. Take a second slice, folded over on it's self, and lay it over the first piece so you have a X made out of bacon. Fan out the slices a bit till you have a bacon cup.
Bake in over at 375 degrees for 20 minutes. My cups shrunk up a bit but stayed in a cup form. They are not as rigid as the ones from the sites above. Mine were more floppy free form bowls but I don't like crispy burnt bacon.
Remove cups and carefully blot out excess grease that will be in the cup. Yuck.
Spoon mac and cheese into the cups.
Ta da. Now you can eat them.