I do not like many veggies. I'll eat them because I know I should, but usually by the time I want to eat them, they are no longer good for me. Cheese? Yes! Deep fried? You bet? Plain? Only with dip.
So when I started making this soup about two years ago The Husband though I was nuts. It has so many freakin veggies in it even I'm not sure I would make it if I came across the recipe. But trust me, this is good soup. Not, I can't believe there are no veggies in this soup, soup. I don't make such claims. Instead, it's a good, hearty soup that I like year round that doesn't make me feel that bad for having bowls of it in one sitting. Even A. will humor me and eat the noddles out of it.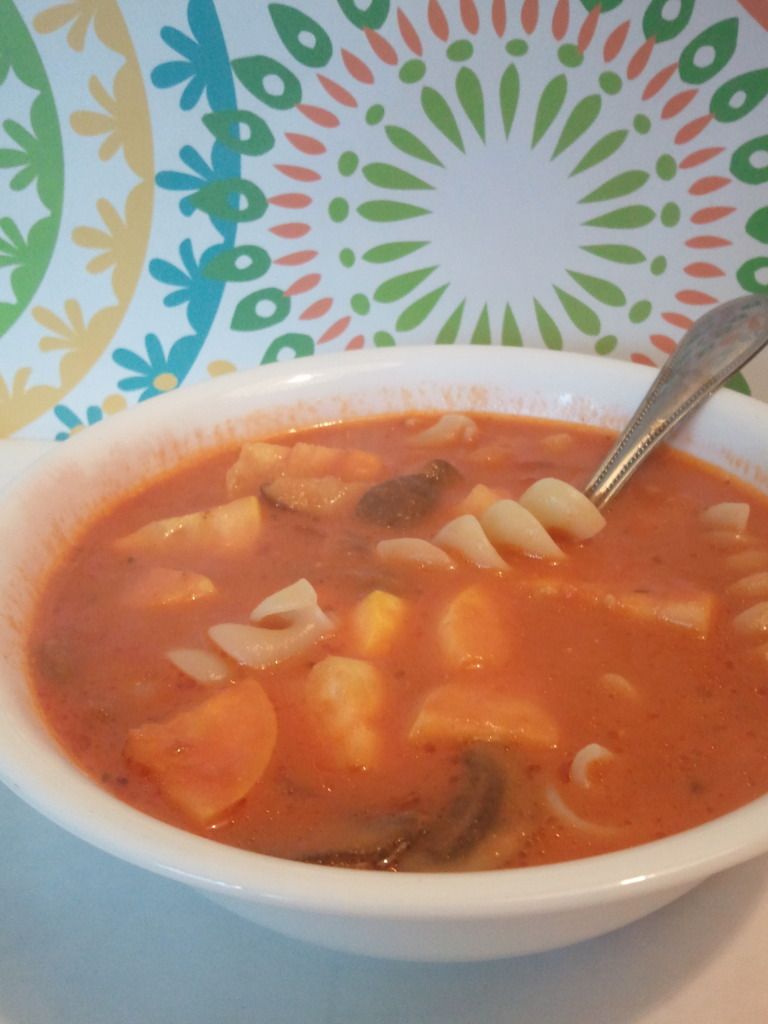 Creamy Sun Dried Tomato Garden Veggie Soup
This is kind of one of those throw every thing in the fridge and pantry, soups. The veggies I use every time change. Usually by what I have in the grocery budget, what's on sale or what's in season. All of this can be made using the fresh version, but when I'm trying to whip this soup up quick, I use a ratio of canned and fresh as noted below to speed up time. You can also skip the goat cheese altogether for less calories or sub it for feta or sour cream if goat isn't your thing.This makes a good amount of soup, my stock pot holds 8 quarts. The base freezes well on this soup, just don't freeze it with noddles. Frozen noodles look and taste gross.
Ingredients
1.5 lbs of half boiled red skin potatoes, chopped
olive oil - enough to cover the bottom of your stock pot
1 teaspoon minced garlic
8 oz sliced fresh mushrooms
1/2 small onion (yellow or white, whatever I have on hand)
2 stalks of celery, chopped finely
1 - 14.5oz can of sweet corn
2 - 9oz cans of slice carrots
1 - 28 oz can of crushed tomatoes
1 - 46 oz can of V8
1 - 29 oz of petite tomatoes + juice
1.5 cups water
3.5 oz of sun dried tomatoe pesto (depending on the intensity, adjust per taste)
4-6 oz soft goat cheese (I use whatever form is on sale, it all melts the same)
1 small yellow squash
8 oz rotinni noodles, cooked
Directions
Boil your potatoes so they are half way done; they will finish with the rest of the soup.
Lightly saute the garlic, mushrooms, onion, celery, corn and carrots in the olive oil.
Add in your crushed tomatoes, V8, petite tomatoes, water, pesto, goat cheese and squash. Bring to a simmer, stiring all of the ingredients together until the goat cheese melts.
Add your noodles to each bowl individually and add veggie soup on top.