When it comes to the weekend we tend to be lazy people. What kind of lazy? The, let's sleep in and wear pj's all weekend, lazy. We watch too many movies and eat casually throughout the day, usually forgoing the table and snacking on the couch.
Honestly, I like it this way. I know that as A. gets older he will start having activities and sleep overs and all that kind of kid stuff so for right now when he's little still, relaxing at home sounds good to me. That's not to say we don't do things, we just don't normally make a big deal out of making firm plans.
This Friday though I made us all truck half an hour to the country to pick up a Little Tykes Cozy Coupe, you know the one, with red and yellow and slightly freakish huge eyes. I don't understand why they decided to put eyes on the newer ones but whatever. A. adores that red and yellow car. They have some at school in the physical therapy room and I'm told he always heads straight to them. The cars are normally $55 brand new and from reviews, a pain in the ass to put together, so when I saw one that was gently used for only $25, I knew we had to go snatch it up. As advertised, it was gently used with the standard amount of wear and tear for a plastic outside toy, just mildly dirty. We let A. play with it that night but then told him we would have to wash it.
Fast forward to Sunday morning where I have to figure out an activity for the morning. You see, The Husband came up with the brilliant idea once we both had weekends off for the first time ever in seven years of being together, that we switch who gets to sleep in. Saturday mornings I get to sleep in and then Sunday's it's his turn. I love Saturday mornings because I get to snooze as long as I want and I love Sunday mornings because A. and I get to hang out just the two of us. So when Sunday rolled around I decided to get us dressed and go outside and wash the car.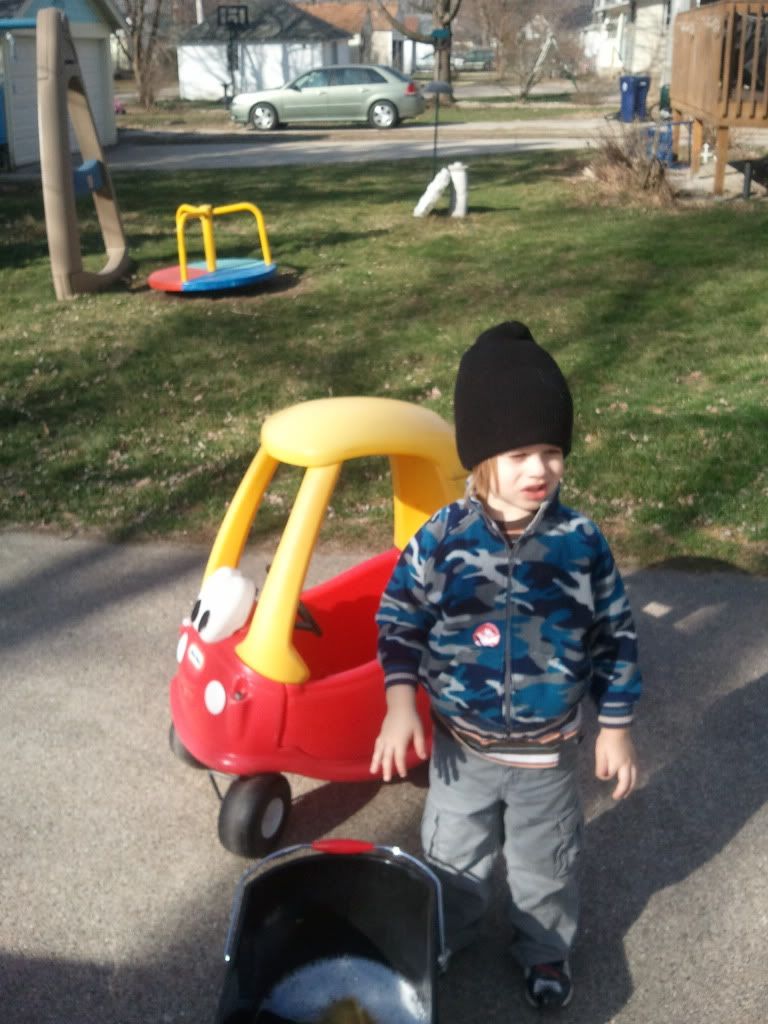 A. has been working really, really hard to combine words into sentances. Once I told him that we were gonna take the car outside and wash it he started jumping up and down yelling, "Wash wash car!" and "Red car! Red car!". Then we filled a bucket with hot soapy water and dragged everything outside.
When I told him that he needed to help me he complained that it was too cold outside and that he wouldn't help. I told him it was 50+ degrees out and for Michigan, that might as well be summer weather.
He finally agreed and said "oookay mom" and picked up the wash cloth. I was actually surprised as A. dislikes getting dirty but apparently, if it's for his car, he'll get over it.
A. helped wash the car and I finished up with washing it, rinsing and then drying it off. A. was so excited by this time he was jumping up and down. I asked if he wanted to take a walk and he screamed "Yeah!!!" at me.
When he finally got in his car he was so excited. I mean look at that face. Totally worth $25 bucks and a drive to the country.
We then took a walk around our block. Overall, a great Sunday morning with A.