When we began looking for houses, like everyone else who has every looked for houses, we had a price point to keep within and a few neighborhoods that we were interested in. We ended up getting lucky and found a house in our price range in one of the neighborhoods. Of course, that meant that the house would need some updating. Not updating like putting a set of stairs to the second floor, seriously that was a listing we saw, no, more cosmetic updating, well and the whole plumbing issue.
Anywho, the house has great character, it just needs some new paint. We have a four bedroom house so we have been very lucky that we have space to spread out. And by spread out, I mean that one of the back bedrooms is now A.'s playroom and at the end of the day I can just shut the door.
This is the only before picture I have of the bedroom. It has a great amount of natural light due to all of the windows. Those curtains were lovingly donated by the way to the local Goodwill, so if you live near me, you could have scored those.
After! I have to be honest, A.'s playroom is my favorite room of the house. It helps that it's also only one of four rooms in the house that has been painted. It is the smallest room in the house but has the most color and toys. It might also be one of the cheapest and thriftiest rooms with tons of cheap finds and second hand finds. The kid has more toys then his preschool classroom does! I bought the curtains from Ikea and they were fairly cheap for the set. I love them and how colorful they are. I didn't have a set color scheme in mind with A.'s room which actually ended up being a blessing. If I found something and loved it, I just threw it in the room, like the yellow clock which was on clearance for $2 at Target.
This is A.'s work bench. His Pop Pop and Ya Ya got it for him from a second hand store, so yay, free for us. The green hamper was from the $1 spot at Target as well as the yellow bucket that holds all his tools. And the pink and orange metal book bin was from My Mom that she found for $2 at Goodwill, so free again. Notice a trend? Everyone in my family likes second hand stores.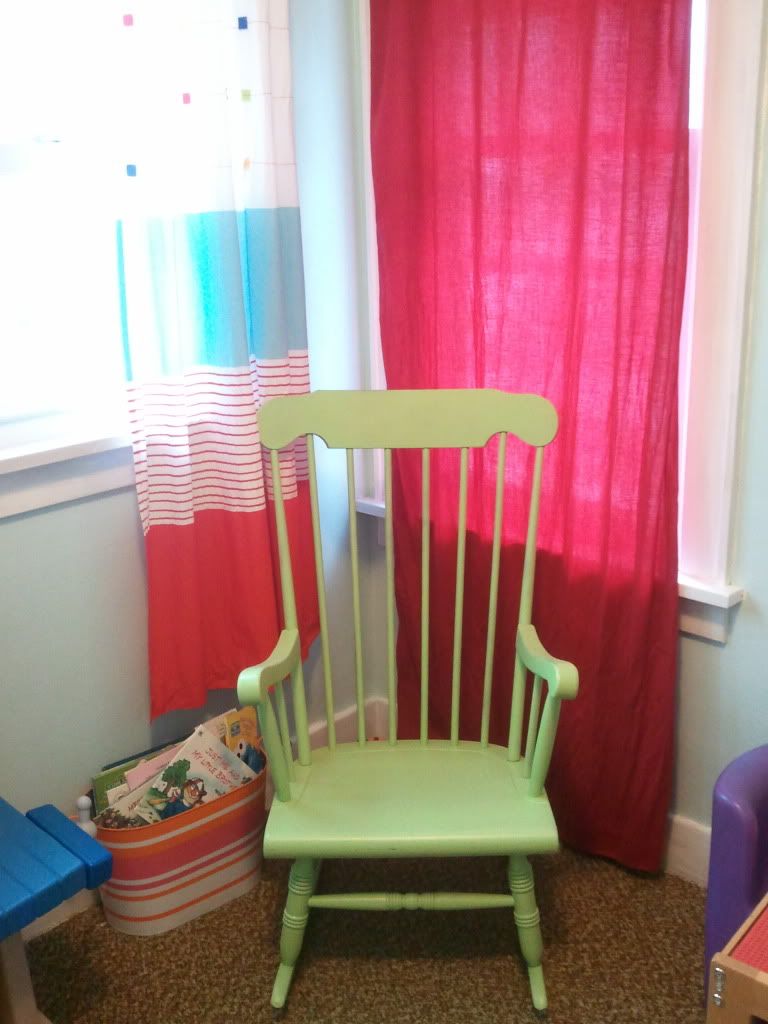 The green rocking chair, which is actually a brighter green in person, was a
$50 dollar find at one of the local furniture stores that sells second hand furniture and sometimes spruces them up. I don't know if $50 is a good deal on a painted rocking chair, but it seemed like it at the time.
My Mom also picked up the Lego table and two chairs from various second hand stores. The easel is a find from Pop Pop and Ya Ya along with the castle from a yard sale. The red curtain is left over from The Husband's high school room that his parents never got rid of and we used to tease them about.
The number wall art is one of my favorites. I found these wall stickers at Meijer on clearance for $13.98. The walls unfortunately have a texture so I had to come up with a cheap solution. My solution? I picked up three foam boards for $4.50, adhered the stickers to the foam board and then put them up. For a total of around $19, I love it and the bright colors it brings into the room.
This wall consists of a cube unit I picked up on sale for $35 minus my discount from Target when I still worked there. As you can see, it is crammed full of toys. Crammed. All of his toys are either gifts or handy-me downs from others. The large world map, copyright 1994 by the way so you know some of those countries may not exist or be restructured at this point, but is from a middle school project I did that if I signed up to read so many articles by someone, I got it for free. Then the Michigan map was from an old road map book and the map of America is a placemat, both from Pop Pop and Ya Ya.
This corner holds his kitchen, which surprise, was a $4 find My Mom scored. A. loves the crap out of his kitchen and
the $8 on clearance red bin from Target next to it holds all of his food. It is a mixture of wood, felt and plastic foods from Target and Ikea. The shopping cart was a $2 find my Mom's mom found. It holds the Cabbage Patch Doll that was mine as a girl. Love that doll.
And this is A.'s dramatic play area. I took one of those closet organizers that I found for $8 at Big Lots and used left over ribbon to make a large knot and closed it in the closet door. His dramatic play is mainly hats, swords and shields.
And in the middle is his rug that is a playmat from Ikea that Pop Pop and Ya Ya picked up. The huge track is one of his holiday gifts from My Dad.
I still have some more work to do which includes ripping up the horrible, horrible carpet and fill in the blank space on the wall near his kitchen. We choose to leave the horrible tiles on the ceiling because well, I'm not touching anymore ceilings right now. But for now, I love A.'s playroom and hope you enjoyed it!