Um, so a million years ago I said I would do a tour through our house. I kinda stopped because um, it's depressing. Most house tours are of beautiful houses, mine is currently missing ceilings and walls. Walls.
But continuing with the tour of our house, almost two years after we bought our house, I thought I would show you what it looks like to walk into our house. It starts with our three season porch. I'm not really sure why three season porches are so popular around here, I would prefer an open porch, but meh. It came like that.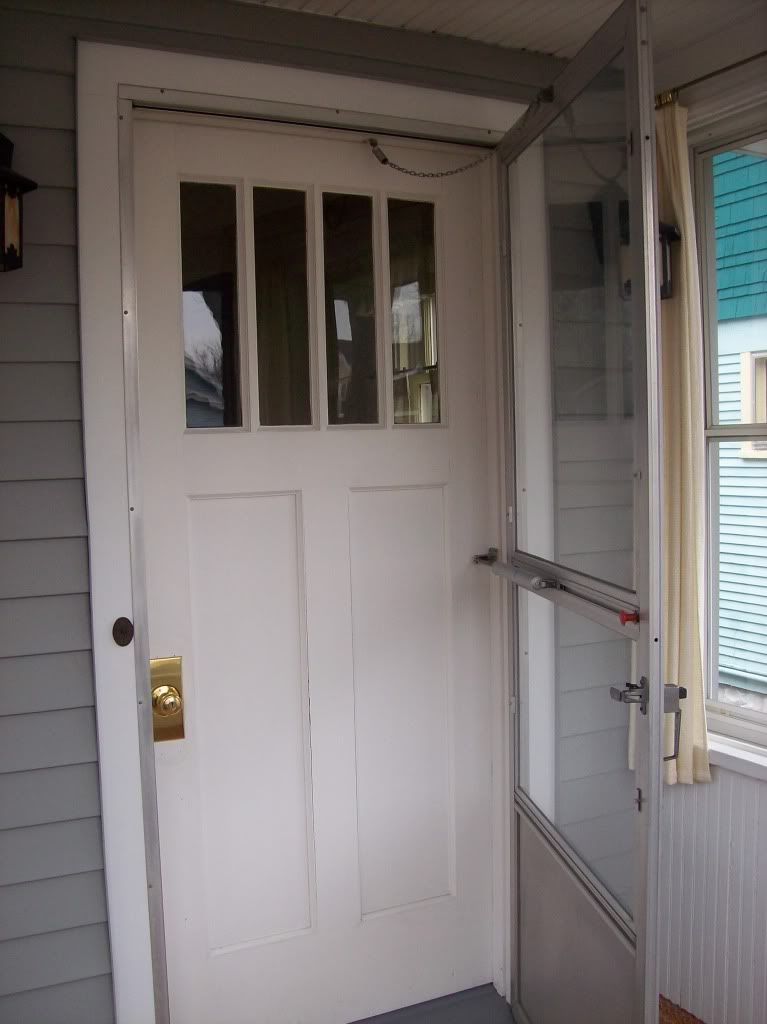 See that awesome gold door knob? Yeah, it was awesome. It had a lock like one you would put in a bathroom, a push knob one. Safe! I know your jealous. And that screen door? I have no idea why so many doors are needed. The porch is screened in, what wind is it keeping out?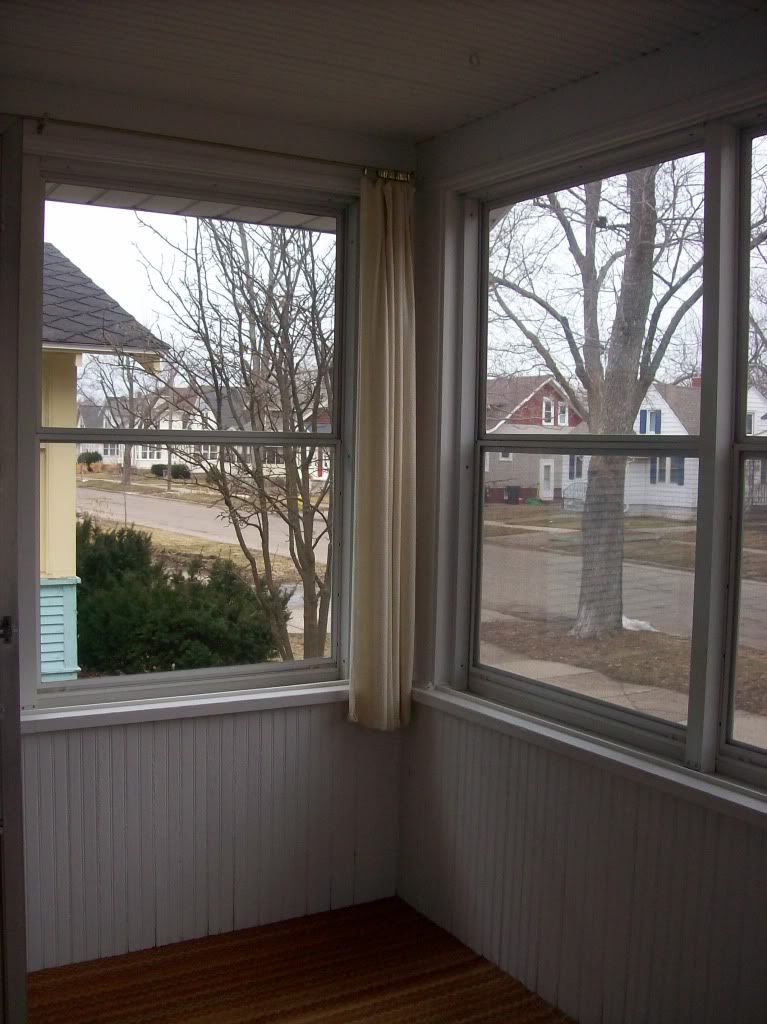 And this is the before for our beautiful three season front porch complete orange zig-zag carpet covering the floor. It reminded me of the carpet in my great grandma's basement. I loved going to great grandma's house, she always kept candy hidden in drawers of the end tables in the living room. Awful, awful hard candies I'm sure were from 1947 but ones that my cousin and I sucked on anyways because great grandma said it was a secret and any four year old knows a secret, even if it tastes bad, has got to be something good. No joke. When she passed away my Mom and aunt had to throw away canned, what we assumed were peaches, from the 1950's. Great grandma didn't believe in getting rid of anything.
I knew that when we bought the house most of the updating would require money, only we didn't have a ton of money to design and makeover the three season porch what with plumbing having taken up a large hunk of money. So this is more of a, throw some paint at it, after, versus tear down the porch and start brand new, after. Anywho, now for the after...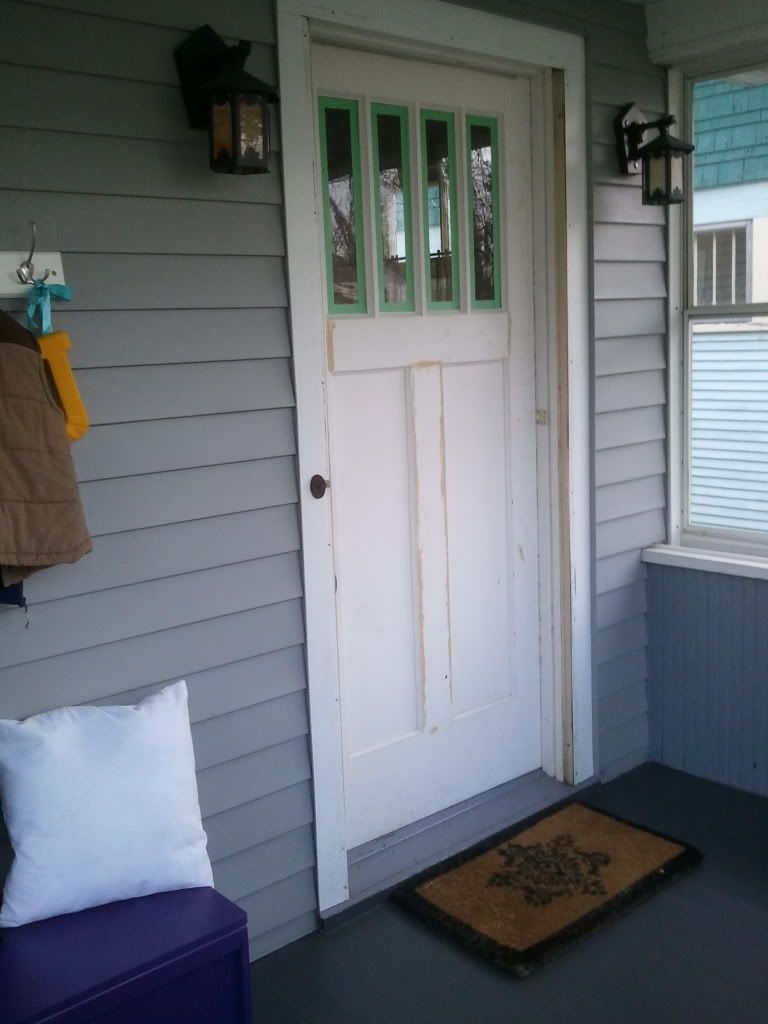 Yay, after. We removed the extra screen door so that you could actually see the details on the front door. The door seems to be original to the house and while it has seen it's share of painting, drilling and patching, getting a replacement door for a now, non-standard sized opening is out of our price range. Plus, I love the simple lines of it.
To be honest though, the actual first step was replacing the door hardware. We bought the Kwikset Arlington line in their venetain bronze because honestly, it was the only set I could find locally I didn't hate. I can't comment or review how easy it was to install as my brother did, but he did minimual grumbling and swearing. I can comment on how it's performed though, which is nicely. It has no scratches and latches perfectly almost two years later. It feels solid and we picked up the matching sets with deadbolts for all the other exerior doors.
Our neighborhood is very safe but I kinda have a thing for deadbolts, call me crazy. As you can see, the door appears to have been stained at one point and the trim around the door was a creamy pink salmon color. Lovely. I still have to buy some trim pieces to go around where the metal door frame from the screen door was and to cover up the gap the metal siding piece has left now.
The Husband and I then ripped up the carpet and discovered that the wood was thankfully in good shape. I then did three coats of floor paint in a the shade darker than the dining room walls. I figured if it's dark, it will hide the dirt better. I used left over dining room paint for the bottom part of the wall and threw down a boot tray. I intend to do that DIY with the rocks in the boot tray, I just haven't yet.
I then painted the ceiling the same color the living room is. This was because of two reasons and both had to do with cheapness. I needed ceiling paint and painting it was much easier than replacing the beadboard.
Then The Husband put up the hooks and I spray painted an old blanket chest purple. And you want to know how you can tell this is a house where people really live? Because that really is our crap hanging up. If I cared enough I would have taken it all down but I think The Husband's hoodie, A.'s vest and Walters raincoat add a certain, us, flair.
Finally, I plan to paint the front door the same color as the garage doors, hence the painters tape that I added several months ago. There are also plans to redo the porch lights in pretty much anything but those fixtures. Maybe in a few years, I'll get around to both. But for now, that's our entry way!