When The Husband and I were dating I wanted to impress him with my baking skills. The problem? I hadn't really baked in years, not seriously that is. An occasional cookie here and there from the refrigerated section, sure, but I hadn't actually baked any cookies from scratch since I was little and helped my mom. So when I came across Cookies by Lesley Anne Leach in the bargain bin at Barnes and Nobles, I picked it up and made a few different kinds before finding the perfect one, an oatmeal based cookie.
I eventually ended up adapting her banana pecan cookie recipe into banana oatmeal chocolate chip cookies. And by adapt I mean I switched out the pecans for chocolate chips. They are a medium dense oatmeal cookie that do not spread out when they bake. The allspice is fairly upfront in these, so pull back if your not a huge fan or swap it out for something else like pumpkin pie spice.
So when The Husband finally fixed my stove, the heating element needed to be replaced, I had to make good on my promise of baking cookies with said stove. These are by far The Husband's favorite cookies and I have made them dozens of times over the last six plus years. They also ship well and do not crumble all the way to Fort Lost in the Woods, in case you ever need to know and have at times been known to bribe Master Chiefs.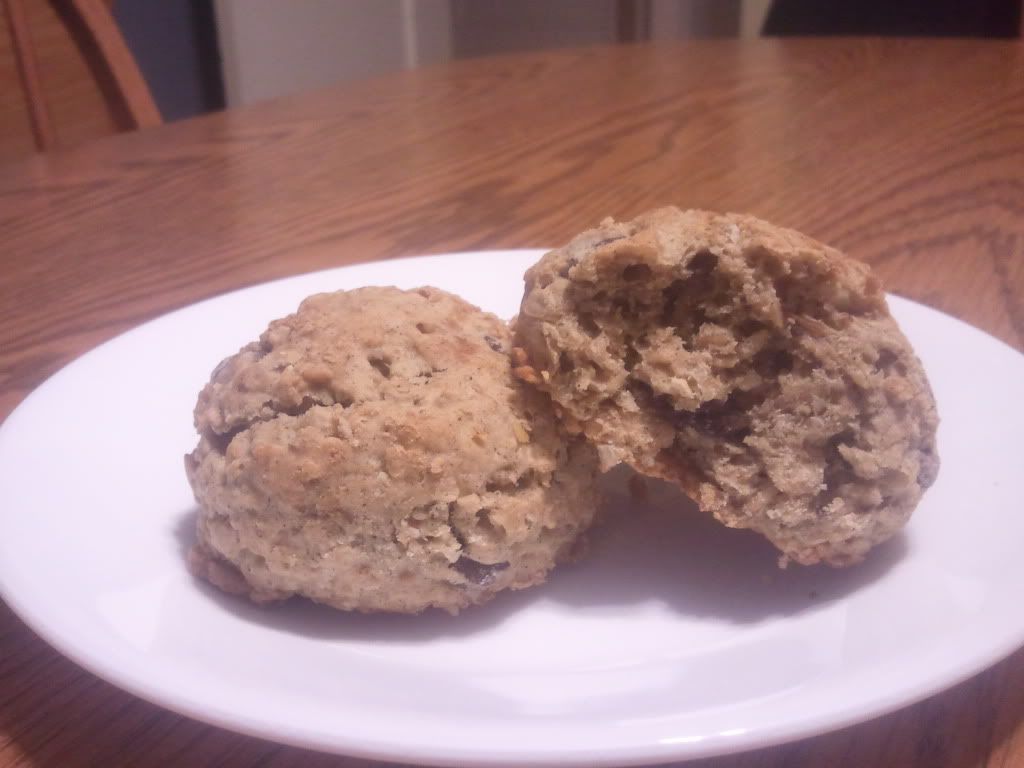 Banana Oatmeal Chocolate Chip Cookies
*I use an ice scream scoop for these cookies so they come out big. They make 20 cookies with that size but I have made them with the regular sized cookie scoop. These seem to be a picker cookie and burn on the bottoms much faster than other cookies; so if you make them smaller, adjust your time down by 1 to 2 minutes. I also always use parchment with these and that seems to help with the bottoms. Also, sorry for that picture, I can't figure out what was going on and was too lazy to find a different camera.
Dough
1 stick + 3 tbsp of butter, softened
2/3 cup packed brown sugar
1 egg, at room temp
1/2 tsp almond extract
4 tbsp milk
1 medium sized banana
2 tsp allspice
1 tbsp baking powder
1/4 tsp baking soda
pinch of salt
1 1/2 cups flour
2 cups chocolate chips
3 cups oats
Directions
Cream together the butter and brown sugar.
Add in the egg, almond extract, milk, banana and allspice to the creamed mixture. Mix until well incorporated.
In a seperate bowl combine baking powder, baking soda, salt and flour. Add mixture slowly into the wet ingredients.
Add in the chocolate chips and oatmeal, stiring by hand.
Drop by ice scream scoops onto parchment lined cookie sheets. Bake at 375 degrees for 10 minutes. Enjoy!