So the other day we went just a tad overboard in picking apples. How far overboard? Um, we are the proud owners of 21.6lbs of apples. In our defense, it doesn't even look like that much. Just two large bags of apples, jonagold and empire. We were too lazy to wander through the orcharid in search of the few remaining honey crisp.
With so many apples and A. having school on Tuesday I figured we should combine this and make a recipe that involved apples for his teachers who if they choose, can share with the kids (the kids already have set snacks, this would merely be extra). I had just pinned these carrot apple muffins orginally from Food Babbles and thought that with some small modifications and a topping, they would be perfect. The recipe even seemed simple enough A. could help. How did he help?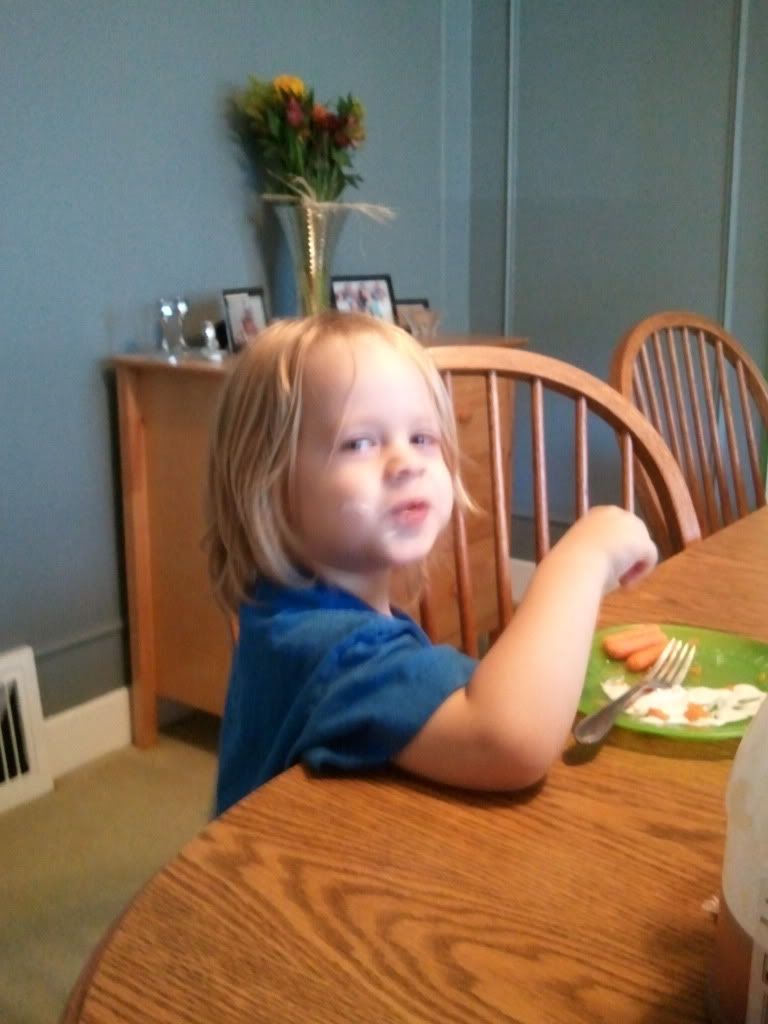 He ate the carrots I was trying to shred for the muffins. I even took a picture of him helping. See all that ranch? Yup, helping :)
Anyways, the modifications I made were to decrease the carrot and increase the apple. I opted to use butter because for once, I didn't have apple sauce in the house and going to the store would have required me to put a bra on and I simply wasn't motivated enough for that. I also used allspice instead of all the individual spices because I didn't have ground ginger in the house. Pumpkin pie spice would have worked nicely too but I stopped searching the cupboard when I found the allspice. I also added almond extract because my mom swears every baked good should have both vanilla and almond and I don't argue with my mom on baked goods, hers are wonderful! I also doubled the recipe because I probably will only make these muffins once, not due to flavor, but due to laziness so I wanted to maxamize my baking.
I then added a topping. Muffins are yummy by themselves, but with a topping they are even better. The crumb topping that I always use comes from Heavenly Homemakers and is wonderful. It adds a nice touch.
Overall the muffins came out very moist. But these took forever to make. Maybe it's because I was trying to make breakfast, eat and blog at the same time, but three hours later I had these muffins. Yay.
Apple Carrot Muffins
*makes 41 regular sized muffins. Yes, 41. I don't know who these people are that can make exact dozens of things, but I'm not one of them. No, I make odd numbers of things even using a cookie scoop to ensure all the muffins are the same size.
Muffin
3 cups flour
2 teaspoons baking soda
2 teaspoons baking powder
1 teaspoon salt
2 teaspoons all spice
2/3 cups honey
2 eggs
1 cup milk
2/3 cups melted butter (which is 11 tablespoons I discovered)
1/2 teaspoon vanilla extract
1/2 teaspoon almond extract
2 cups grated or finely sliced apples (I used 1 cup each of empire and jonagold)
1 cup shredded carrots
Crumb Topping (optional but yummy)
1/2 cup quick oats
1/3 cup brown sugar
1/4 cup flour
1/4 teaspoon allspice
1/4 cup melted butter
Directions
In a bowl combine flour, baking soda, baking powder, salt and allspice.
In a seperate bowl combine honey, eggs, milk, melted butter, vanilla and almond extract.
Combine flour mixture with honey mixture.
Add in apples and carrots. Mix well. Scoop into muffin tins.
If making topping, combine oats, sugar, flour, allspice and butter and mixture together with a fork. Add a spoonful to each muffin.
Bake at 400 degrees for 10-14 minutes. Enjoy!