So I mentioned in my earlier
post
that I made my Mom a mint chocolate bundt cake. Mom has always had a thing for anything chocolate and mint. I remember when I was little that when we would go to dinner and they had those small peppermint patties, she would buy one for each of us. Now that I think of it, it was probably because secretely she didn't want to have to share hers with us. Oh and because she loved us, of course.
That's why when I came across this receipe for mint bundt cake from
The Food Librarian
I just knew I had to try it out.
The biggest change I made was to add more chocolate, one should always add more chocolate. It turned out very moist and just the right level of mint.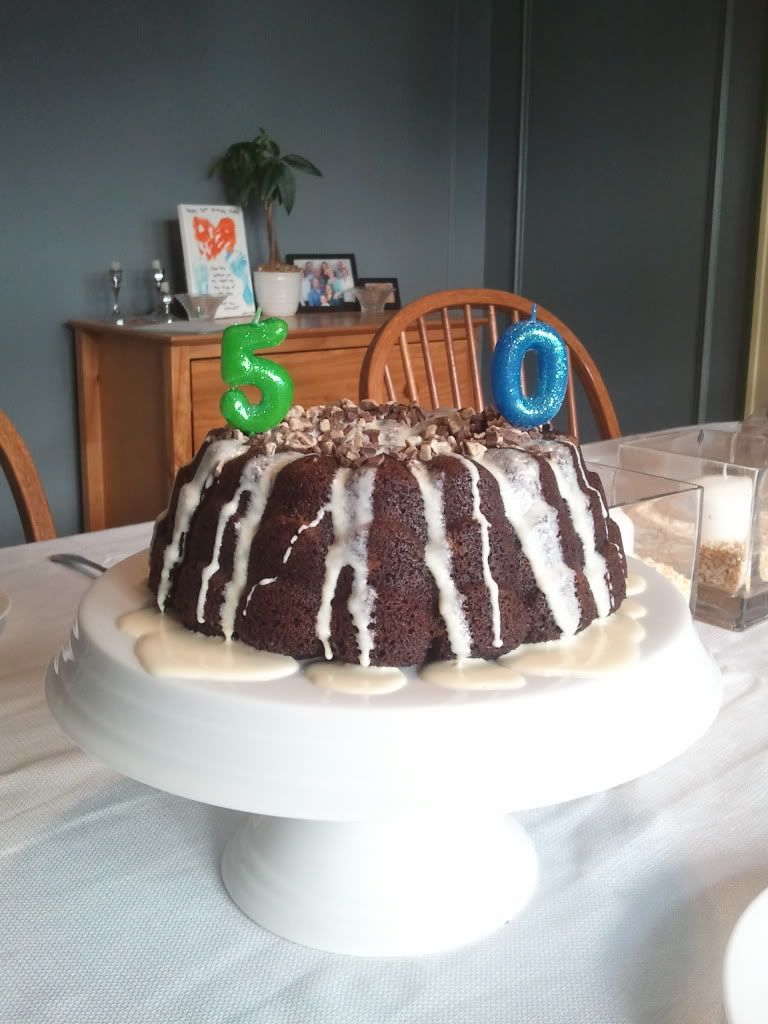 Chocolate Mindt Bundt Cake
Cake
1 cup water
1/2 cup vegetable oil
1 stick butter (1/2 cup) butter
1/4 cup cocoa
1/4 cup semi chocolate chips
2 cups all-purpose flour
2 cups sugar
1/2 t salt
1 t baking soda
1/2 cup buttermilk
2 eggs
1 t vanilla
1/4 t peppermint extract
1/2 cup Andes Creme de Mint baking chips
Glaze and topping
2 spoonfulls of buttercream frosting
1/8 peppermint extract
1/4 cup Andes Creme de Mint baking chips
Directions
Bring to boil the water, oil, butter and cocoa.
In a seperate bowl, mix flour, sugar, salt and baking soda together.
Add cocoa and the flour mixture together well.
Add the buttermilk, eggs, vanilla and peppermint extract together in seperate bowl. Add mixture to batter.
Mix in the baking chips.
Pour mixture into well oiled and floured (I cheat and use the flour spray) bundt cake and bake at 375 degrees for 30-45 minutes, depending on oven. Let cool.
To make glaze, add frosting and peppermint extract and microwave for 30 seconds. Pour over bundt cake. Enjoy!