Monday was my mom's 50th birthday.
The night started out with Mom and A. playing in his newly decorated playroom. Oh and yes, I know A. doesn't have pants on.
I know, I know but I wasn't in the mood to wrestle with him, I had dinner in the oven.
This was A.'s birthday present and card to her. Mom insisted that she didn't want any presents or to have it turn into a big deal. But I knew she wouldn't say no to "art" from her only grandbaby.
She also won't say no to a dinner she doesn't have to make. So I made her her favorite, pork tenderlion stuffed with a spinach, goat cheese and sun dried tomatoe filling. It might not look fancy or even that great in my picture (I am not a photographer, not in any sense of the word) but it sure was yummy! I also made red skin potatoes cut thin with a mandalin, but forgot the picture.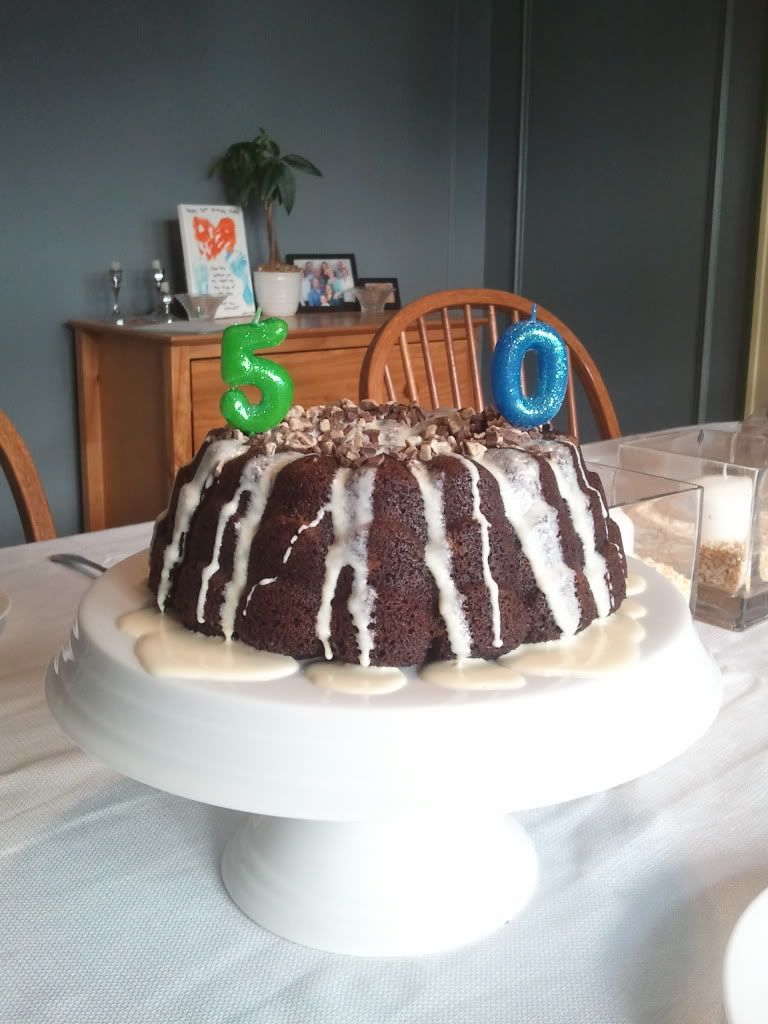 She also won't say no to birthday cake. So I made her a mint chocolate bundt cake. A. loved the candles because while it's hard to see, they have sparkles on them. Overall dinner went great. My brother and his new wife (so crazy to say that!) as well as my Aunt came over and we all had a nice dinner.
But as self centered as it sounds, Monday was a very emotional day for
me
. And as much as I hate to even
think
the next thought, less say it or type it,
I wasn't sure if Mom would make it to her 50th birthday
. I'm not sure how many more birthdays she has. I'm bitterly aware of the survival rates of stage 4 bone/breast cancer. But Monday, I got to make my mom dinner and her 50th birthday cake.

Monday I got one more picture with her. Monday I got one more happy family memory of her. Monday my son got to hug his Nana. And that's why Monday was the best day ever.