When we first moved into our house, I walked around with my in-laws and sister-in-law, beaming with pride about our new house and telling them about all my design plans. So many, many plans. My sister-in-law, who is a few years younger, single and doesn't have her own house or really any of her own bills (she's in college) said happily, "Wow, so it sounds like you guys should be able to decorate the house really quickly!". I wish. But in order for that to happen I would need an endless amount of money that isn't already going to just living in the house and eating food, oh, and my own personal FedEx man to deliver all my loot. So instead I like to dream about stuff I'd fill this house with, but only in my mind, because it's cheaper that way. And currently the things I'm adoring include...
This
bird jewlery dish
that I think would look nice in the entry way as a catch all for keys and other odds and ends. Of course I would have to buy a table to go in the entry way for it to sit on, but I'd actually rather just buy the dish first.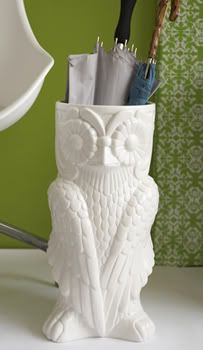 Also this
owl umbrella stand
for the entry way. We don't even own any umbrellas but I would buy some just so I could have this stand.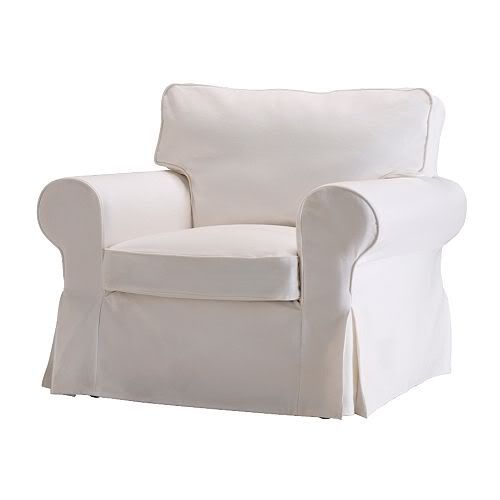 I really want a big,
overstuffed chair
for the living room. The problem is I can't find one in yellow that I like. I'm sure I could have one custom made but I can't afford that. I wonder if I could dye the slipcover? Hmm.
I also really like this
owl lamp
. I think it would look good in the living room on the side tables we don't yet own. Hmm, I'm suddenly loving things with owls and birds. That trend is old too though and my next door neighbor lady already has an odd obsession with them. But something about them speaks to me.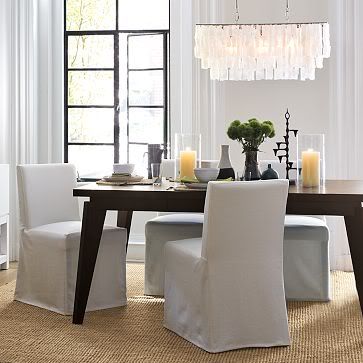 This
large hanging capiz pendant
that is sparkly but not in an obnoxouis way. It would look perfect in our dining room because you could see it from the living room as well as the front of the house. And nothing says snazy like a sparkly pendant.
Even though we have a dining room I think this white cafe pub table would be a great addition to the unused corner of our kitchen. I love the idea of having a vase with bright, fresh flowers on it. Plus anything to make that room brighter and less 1952 would be fantastic.
I hate. Hate. Our upstairs bathroom sink. It's one of those awful, awful sinks from the 70's or 80's with the horrible wood bottom and awful gold like color sink. It has to go and soon. And to replace it I want to install this
pedestal sink
that is very close to what was probably originally in the bathroom when the house was built in 1928. How I want that sink and all it's beautiful glory. I don't even care that I won't have a place to store things underneath it. We'll deal and use the hallway closet instead.
Letter wall hooks
that I think would look oh so cute in our full bathroom. Not that The Husband or A. would use the appropriate letter, but still, I have visions of crisp white towels hanging from these.
This
crystal perfume bottle
is perfect. I would prefer a vintage one actually and there are tons at the local flea markets. It would go perfect on my dresser next to my growing collection of jewelry boxes (I currently own six but have three on display).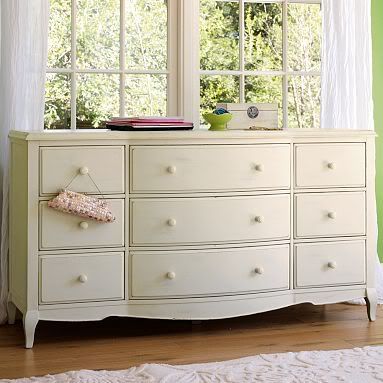 And it would go perfect on this
curvy dresser
. I love the details of it and it would give me more space to display my jewelry box collection and other tchotchkes I've collected over time.
Soon hopefully I can buy some of this stuff instead of plumbing and drywall. No one cares about new plumbing but people do care about quirky owl umbrella stands and sparkly capiz pendants. Well at least, I care.