So this post is over two months overdue. I was fairly lazy after the party. But whatever the reason, here is A.'s Olivia themed birthday party.
A. has been obsessed with the show Olivia now since we moved into the House and got better cable that had Nick Jr, which crap, was almost a year ago in April. Wow. Anyways. The first time he saw an episode he went nuts, "swimming" on the couch like Olivia was in the ocean with sea lions. I had never seen him pay so much attention to something on TV before and soon we had 29 episodes of it dvr-ed on our TV.
The TV show is based off the Olivia book series by Ian Faulkner and A. now has all of the board books available. He loves to point at Olivia and laugh. If you haven't seen or read about Olivia then you are missing out on the most precocious six and three quarters old pig.
So when it was time to throw A.'s second birthday party I stayed true to his
first birthday
and used a simple color scheme with accents to help tie in the theme. I used black, red, white stripes and polka dots.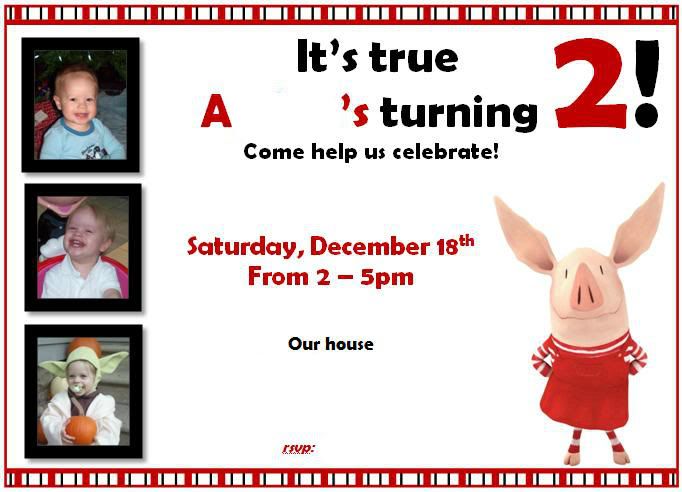 This was his second birthday party invitation that I made this year. It was simple again, like last year's
invitation
. I like it well enough for twenty minutes of work in Word. I copied the invitation wording from some source; I'm not that brilliant to come up with rhyming wording for a two year olds birthday party invitation. I think it went nicely with A.'s name but really any name would go well.
I wish that I would have thought to take video of A. when he first saw the dining room decorated, but ugh, of course I forgot. But the, "wwwwwoooow!" that he screamed first thing in the morning made it worth it more than you can even imagine considering how it's only one of less than a dozen words he has.
This year instead of hosting it away from home, we got to host it in our new dining and living room complete with paint swatches and patches on the walls. So ignore those in the background. The Husband was in charge of taking the majority of pictures this year. He did a great job (insert, don't let that happen next year, smile here). I'm missing a few that I would have liked to have gotten but overall they are photos of his party. A. had a blast!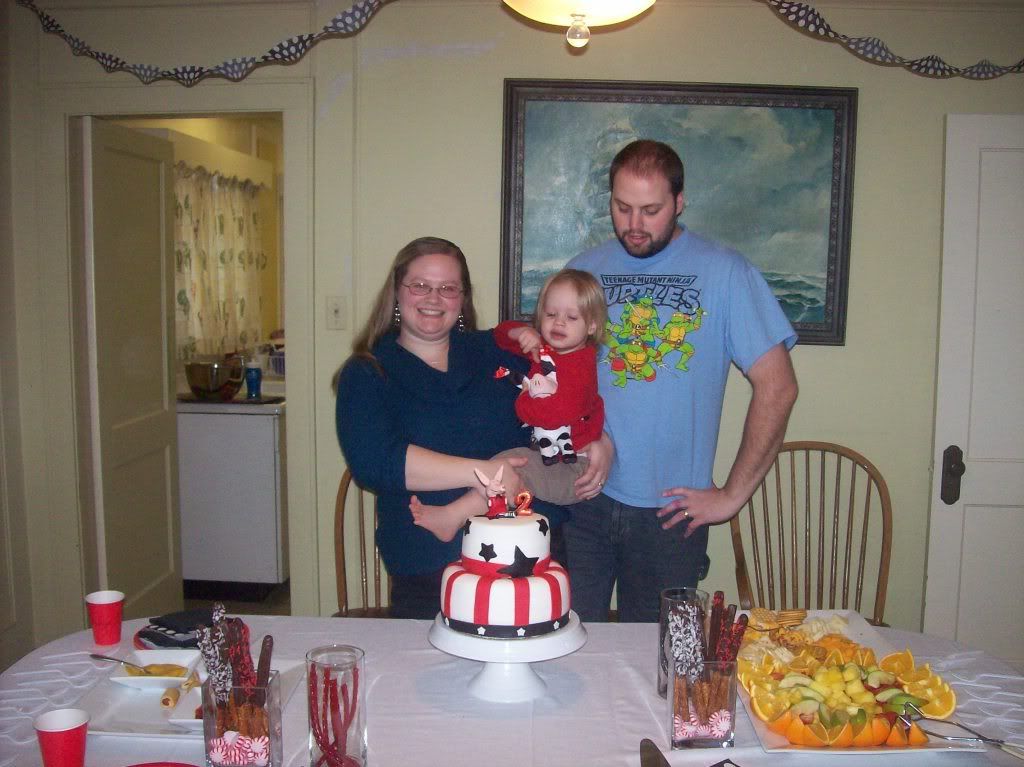 This is obviously us. We apparently suck at taking a decent family photo but I promise we were all happy at that moment in time. We'll work on making it look like it for next year. But it does a decent job of showing two of the streamers The Husband hung so beautifully for me, the yucky drapes left over from the previous owners in the kitchen and the sailboat painting that is forever titling to that one side.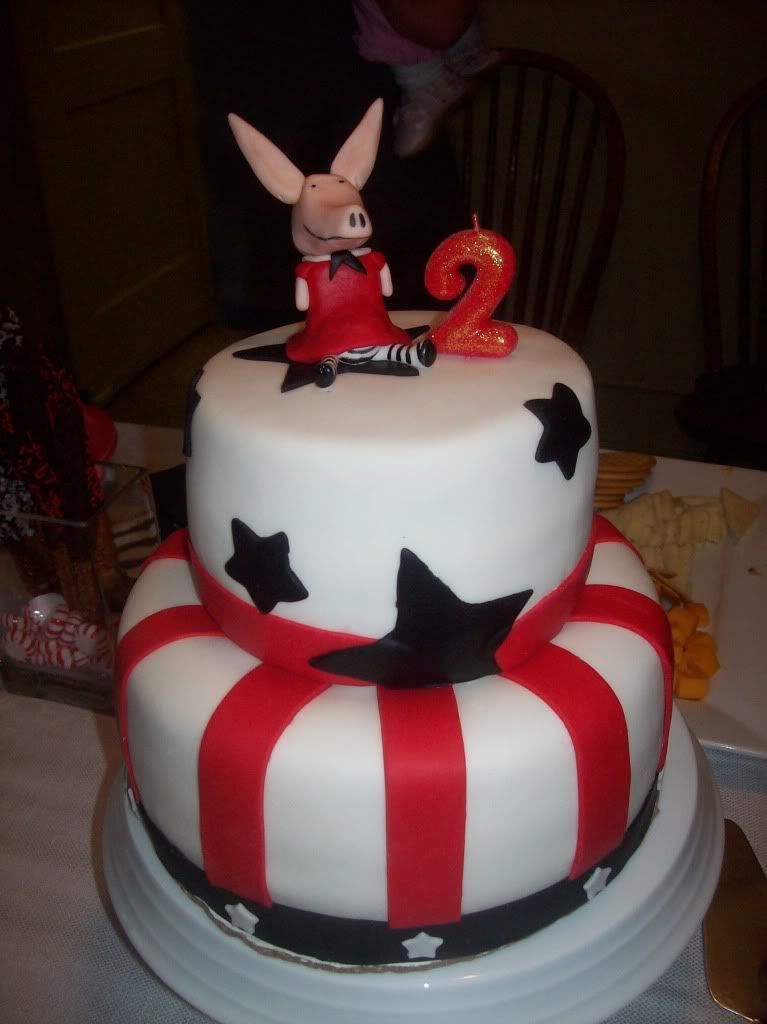 This was A.'s Olivia the Pig birthday cake. I wish I could take credit for it but trust me, I'm not that talented. I could handle his first cake and that was very important to me, but with his 2nd cake, um, not as much. No, this cake is the wonderful work of my best friend growing up, Melissa. We have known each other since we were six and when I knew I had a specific idea in mind for his 2nd birthday cake, one with tiers and fondant work, I knew I couldn't ask anyone but her. I knew I wanted stars and stripes and an Olivia with the red dress made out of fondant, but she is the one who designed the final cake design. The cake was so yummy too, with a white and chocolate cake with oh so yummy filling.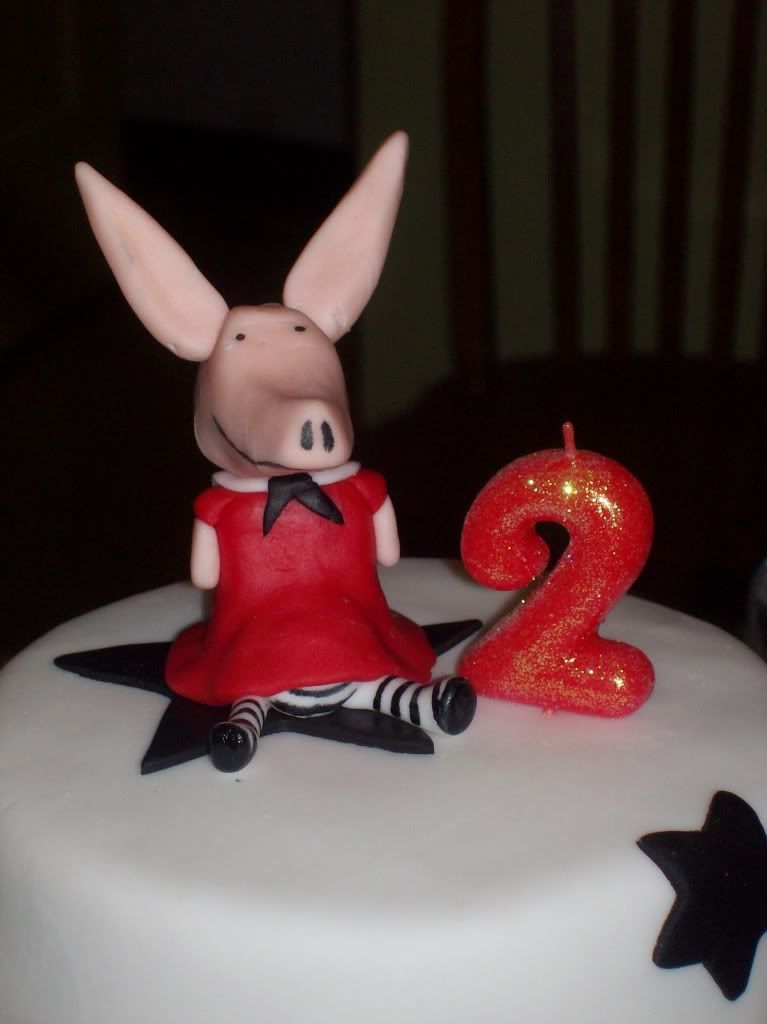 This is a close up of the Olivia cake topper. It was perfect and coordinated perfectly with the sparkly red number 2 candle I found at Target. We kept Olivia around for a week or two after the party and every time A. saw it he exclaimed "oooooh!".
This was the party table. I used the white table cloth and white platters I already owned. I then picked up red plates and plain black napkins from the dollar store. The polka dot napkins come from Target and I shelled out a big $2+ dollars on those and shamelessly saved all the extras for some function in the future. I served pigs in the blankets, fruit, cheese and crackers, mini cheese and pepperoni pizzas, red and black liquorish and chocolate covered pretzels.
There's a close up of the one side of the table. I have no idea why I didn't take one of the other side. Oh well. It looks the same, just with the pizzas. By the way, isn't the fruit platter pretty? My mom did that. She rocks.
This was the punch table. I meant to get a better picture but then, meh. I bought a cheap red plastic table cloth, red cups and reused the punch bowls and glass pitchures from our wedding. My Mom made pink sherbet punch. The recipe is simple and consists of one pint pink sherbert, one bottle of sprite and one can of pineapple or pink lemonade juice. I think Mom must adjust it a bit because when she makes it it tastes creamy and oh so good, where when I make it it's just kinda sugery sweet. Either way you make it, it tends to stain so I took a risk letting people wander around holding open cups over our 1952, once cream colored carpet.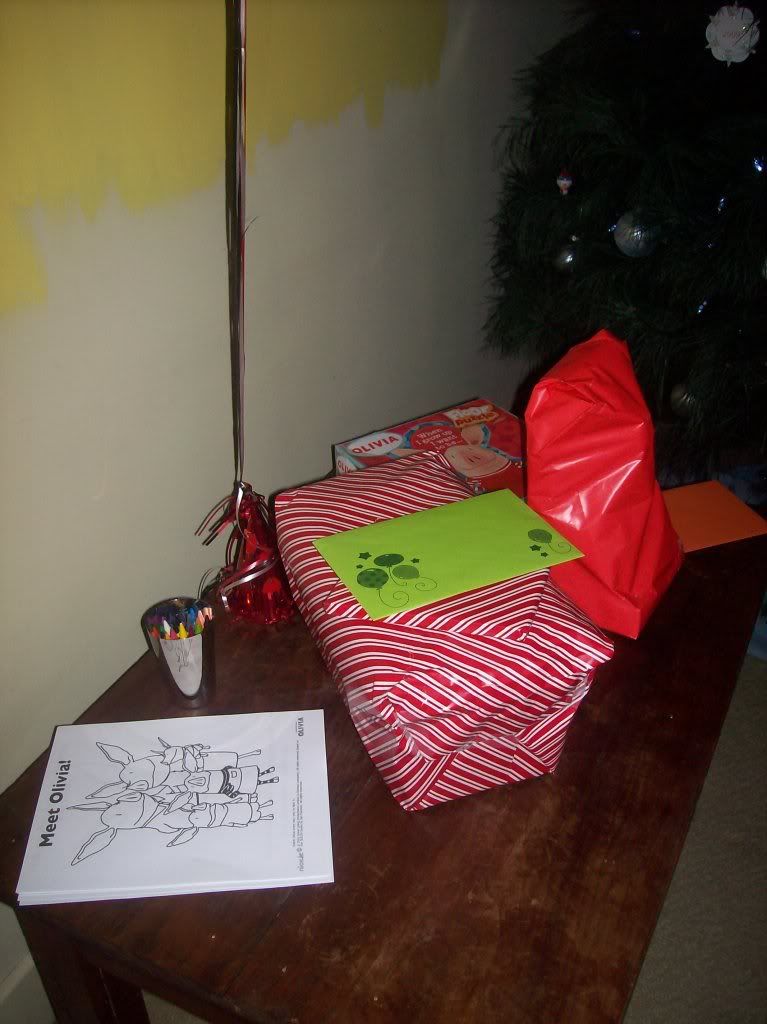 These were the presents to A. that The Husband and I bought him. An Olivia puzzle that is three feet tall. It's too hard for him to put together by himself but he loves handing us the pieces and it was a big hit as an activity at the party. The other activity was the coloring pages on the table. We also bought him an Olivia board book, Olvia Counts, as well as an Olivia plush doll dressed like a cow and a duplex set. I would love to say he has adored and played with each one day and night but um, yeaaah.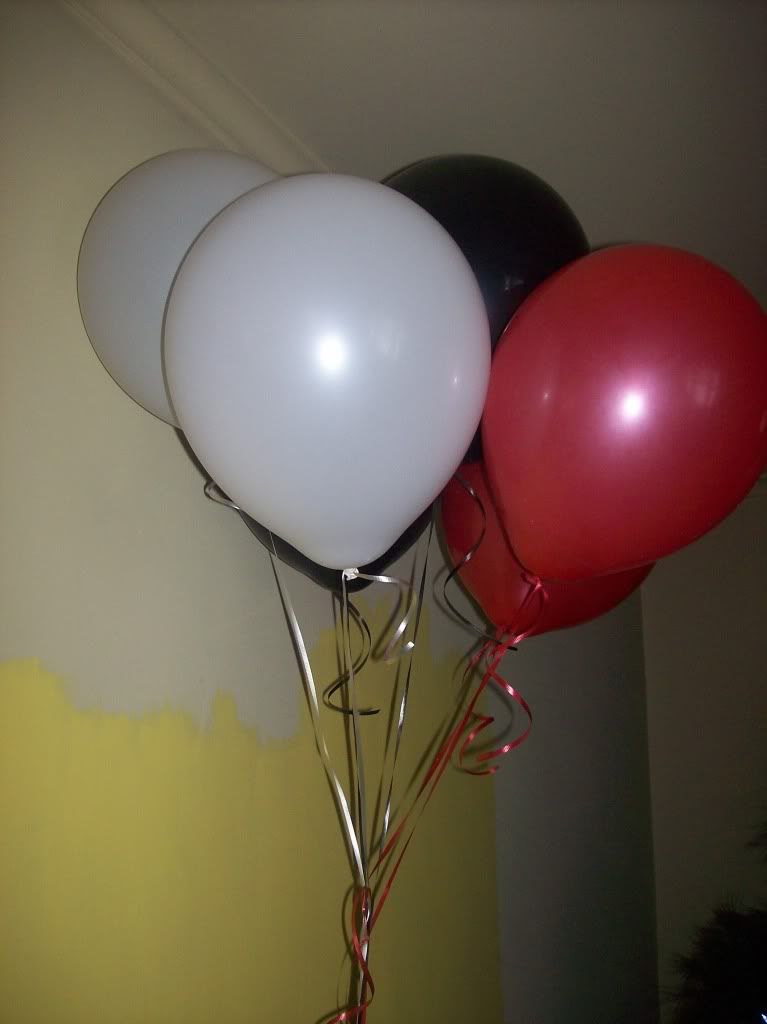 And to end, the ballons The Husband went and picked up the day of the party. Normally when your child has a birthday party you put them outside. But poor A. was born in December in a state that gets snow so instead they go inside next to the horrible yellow paint I painted on that wall. The Husband did do a very nice job with the ballons.
And that was A.'s birthday party. I can't believe we all made it to two. I can't believe he's two! I'm so glad at the end of the day that we got to celebrate it exactly like a birthday should be, with family and friends. I couldn't have thought of a better way.