I wrote a while ago about
challah
and my love for it. I loved it so much that this week I'm going to bake a different one. The honey one is good but a little quirky to make at times. So this time I just wanted to make a savory one to go with our roast chicken and potatoes for
shabbot
dinner tonight.
This
challah
is different from the last one I posted in that it's more airy. I've probably made it half a dozen times or so and it almost always comes out perfect. It reminds me more of pull apart bread then bread that can be sliced. It comes from
Smitten Kitten
who notes that it is an adaption from a different recipe. Works for me. I guessed when it came to the topping and kinda just threw things at it based off a bread I had bought the week before at the grocery store. Obvouisly if garlic, sesame seeds and other spices aren't your thing, just omit them and make plain
challah
with an egg wash. And if the directions feel really similar it's because they are. They are virtually the same directions from last week's
challah
. Repetition, yay! This will make one large loaf.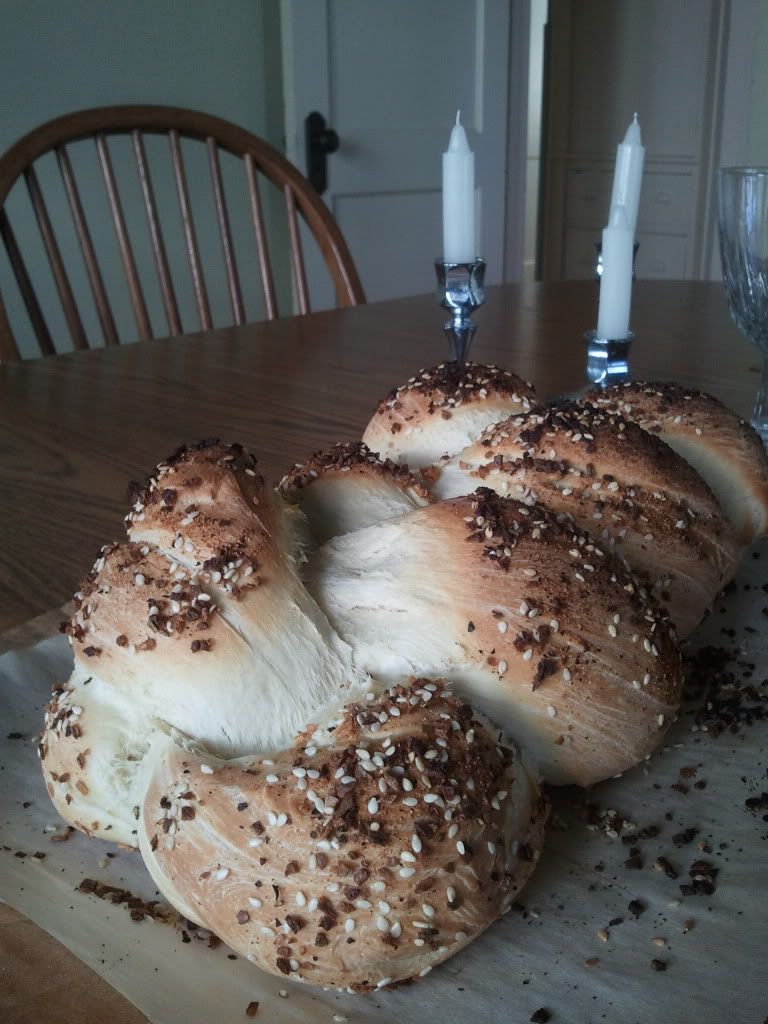 Savory Challah
2 1/4 teaspoon active dry yeast
1/2 tablespoon sugar plus 1/4 cup sugar
7 ounces of warm water
1/4 cup olive oil
3 whole large eggs, 1 egg for egg wash if desired
1/2 tablespoon salt
4 1/2 cups bread flour
1 teaspoon dehydrated onion
1 teaspoon sesame seeds
1/8 teaspoon pepper
3/4 teaspoon garlic powder
olive oil to coat
In the bowl of your kitchen aid stand mixer, pour in sugar and yeast. Add warm water and allow to sit until frothy, approximately three to five minutes.
Add olive oil, eggs, remaining sugar and salt to mixture. Using the paddle attachment mix all ingredients till they are well combined. Slowly add in bread flour, half a cup at a time. About the time that the flour seems like it isn't mixing in as well (usually around 3 to 3 1/2 cups of flour) switch to the dough hook and continue adding in the last of the flour.
Knead the dough using the dough hook, for 8-10 minutes until the dough is stretchy and no longer sticky to the touch.
Place in a lightly oiled bowl and allow to double in size in a warm, draft free space; usually one hour.
After the first rise, slowly deflate the dough and knead gently back into a ball. Allow dough to rise again for one half hour.
After the second rise, divide the dough into three sections and braid it into a three strand braid. Place the loaf on parchment paper and if using an egg wash, brush loaf with half of the egg wash. If using the savory topping, apply a light coat of olive oli and the seasoning liberally to the bread. Allow bread to rest one more hour.
Preheat oven to 375 degrees (if using a baking stone, put the baking stone in the oven while it preheats) and brush with remaining egg wash. Bake loaf for 15-20 minutes until golden brown on the top.
My Commentary
This bread is more plain in flavor than the honey
challah
is and because of that I think it would go well with any kind of meal. A. doesn't seem to have a preference for either as long as I put tons of butter-like spread on it and having made this into french toast before I can say with confidence this is an overall great bread.
In regards to the topping, The Husband was less than impressed. He thought it was too garlicy (is that a word?) and didn't like how the onions turned brown. He might have a point. I might in the future tone down the garlic powder and maybe only add the seasoning to the last five minutes of the baking.