I should begin by saying that I meant to post this last Friday but was too lazy to upload the pictures from my phone to photobucket because it would have required me to get out of bed. I was deathly ill, as in, I felt drunk and hadn't even had the pleasure of drinking, ill, this past weekend. From what I can remember of the weekend, it rocked. But moving on...
My favorite day is Friday but it's probably not for the reason other people love Friday. Normal people work Monday through Friday so Friday is the last day they work. I work retail. It's just the beginning of my week usually.
No, the reason I love Friday is because it's when I make
challah
(pronounced "hallah"). The word
challah
itself doesn't actually refer to the making of bread or the dough or even the bread itself, instead it refers to the piece of bread you are suppose to break off and burn for G-d. Either way, I love making it and not just because it's a
mitzvah
(commandment from G-d) either. No, I love making
challah
because it's delicious and it makes my house smell wonderful.
Now most people have a
challah
recipe handed down from generation to generation. A
challah
recipe that has been lovingly made for
Shabbat
(pronounced "Sha-bot" with "bot" rhyming with "tot") dinner, the dinner that celebrates the day of rest, for decades. I however, being the Jew in training that I am, don't have such luck. Instead, I'm left to try to figure out which recipe to use from blogs on the Internet.
I have made other recipes before, one with mild luck and another with good luck. Both however, are not what I'm now use to eating at Temple. It's more dense, more like Italian bread density but better. And sweeter. So I decided to try a new recipe two weeks ago for the first time. More than likely, all the recipes are great and it's simply my issue. Either way, this is the one I tried for
Shabbat
two weeks ago and again last week and it comes from
My So-Called Knife
. I've adapted the amounts of the ingredients and the directions slightly, using the rising method from recipes I've used in the past. This should make one large loaf.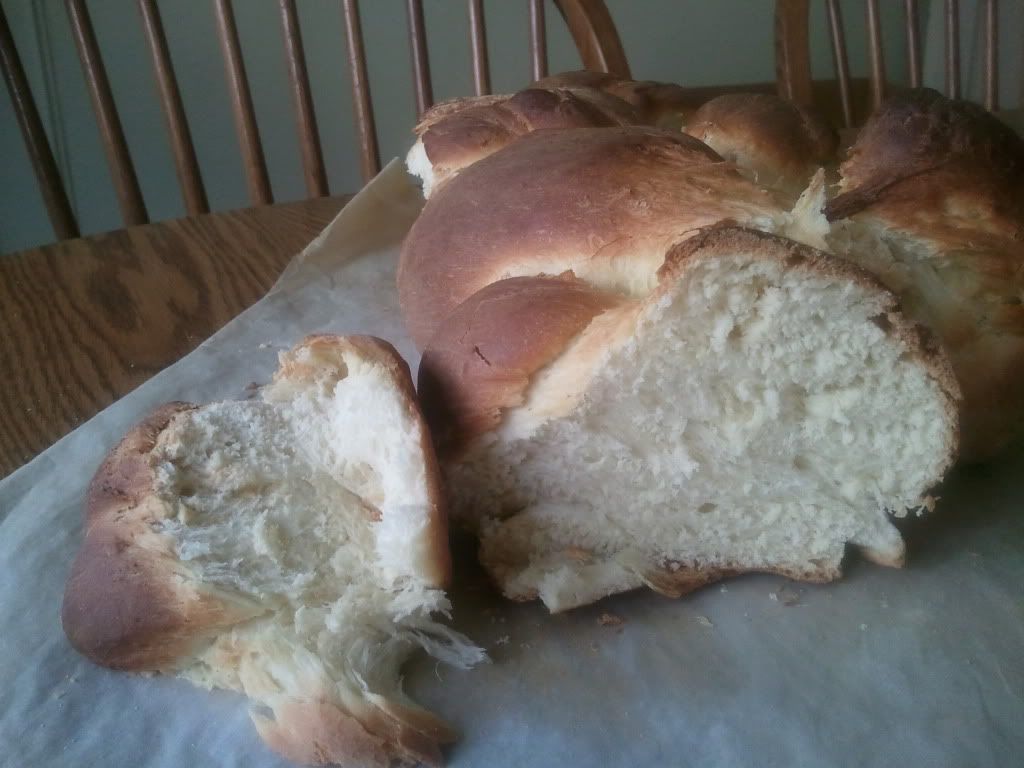 Honey Challah
2 1/4 teaspoon active dry yeast
1 tablespoon sugar plus 2 tablespoons sugar
3/4 cup warm water
1/4 cup olive oil
1/4 cup honey
3 whole large eggs, 1 egg for egg wash
1/2 tablespoon salt
4 1/2 cups bread flour
In the bowl of your kitchen aid stand mixer, pour in sugar and yeast. Add warm water and allow to sit until frothy, approximately three to five minutes.
Add olive oil, honey, eggs, remaining sugar and salt to mixture. Using the paddle attachment mix all ingredients till they are well combined. Slowly add in bread flour, half a cup at a time. About the time that the flour seems like it isn't mixing in as well (usually around 3 to 3 1/2 cups of flour) switch to the dough hook and continue adding in the last of the flour.
Knead the dough using the dough hook, for 10-15 minutes until the dough is stretchy and no longer sticky to the touch.
Place in a lightly oiled bowl and allow to double in size in a warm, draft free space; usually one hour.*
After the first rise, slowly deflate the dough and knead gently back into a ball. Allow dough to rise again for one half hour.
After the second rise, divide the dough into three sections and braid it into a three strand braid. Place the loaf on parchment paper and using the remaining egg to make an egg wash, brush loaf with half of the egg wash. Allow bread to rest one more hour.
Preheat oven to 375 degrees (if using a baking stone, put the baking stone in the oven while it preheats) and brush with remaining egg wash. Bake loaf for 25-35 minutes until golden brown on the top.
My Commentary
Overall I thought this bread was really good and much closer to the bread at Temple. It is much sweeter when eaten alone, though when you eat it with a meal, the sweetness gets lost. I had my Mom and Aunt try some versus the regular bread and my Mom and I preferred this sweeter one whereas my Aunt preferred the regular one. The Husband said he didn't care, it was all bread.
*
I must make admit though, that I cannot get this stupid dough to rise like all my other breads I make do! By the end of the first hour it barely even rises and I know it isn't the yeast, because it is very frothy. My best guess would be that it uses honey versus white sugar but I'm just pulling things out of thin air here. Whatever the problem is, I'm having to resort to preheating the oven to 150 degrees, shutting off the oven and putting the dough in there to get it to double in size which still takes about 45 minutes. After that however, it behaves itself like normal dough.
Oh and I left the eggwash off (so the picture doesn't reflect an eggwash, if it did it would be shinny) because I was being lazy last week. The one at Temple does not have an eggwash either and no one there seems to mind one bit so I figured I would try it that way. I just watched the bread a bit more to make sure it didn't burn. It did bake and brown faster, only about 20 minutes without the egg wash.
I think that I will need to try this recipe multiple times before I feel like I will have even come close to getting a handle on it. Each loaf I make, of the same recipe, following the exact same steps, is so very different. It's a combination of being human and paying attention to one loaf more than another to where the planets are in the universe.
In the end though, everyone should make
challah
. Not because it's a
mitzvah
, no, because it's so very tasty and makes awesome french toast from the left overs. So go, make
challah
!