One night, I had one of those crazy mom ideas that everything we were eating was bad for us and I should make everything from scratch. I begin searching food blogs like a crazed woman trying to figure out how to make everything from salad dressing, pasta noodles, peanut butter to breads. I spent hours finding recipes, organizing them and reading each step.
Yes, I have issues and I'm comfortable with them.
After finding all these recipes I came to the
actual
mom realization that I am not those super mommy bloggers. You know the ones, the ones who by 9am have dressed and fed nine children, painted the dining room, scrapbooked yesterdays activity and baked and frosted from scratch twelve dozen vegan cupcakes for the bake sale. I'm just not that mommy. I'm lazy. So instead I decided to just pick one recipe and I decided to try the one about cheese bagels, though the recipe for bacon-wrapped potato bites called my name as well.
Having only ever made two loafs of challah from scratch before I was a little scared to try making bagels. But much to my suprise, I had some of that freakish super mommy blogger magic and they turned out perfect! My pictures, not so much, but here they are along with the recipe and my thoughts on it after making four different batches of them over the last few weeks. The original recipe is adapted from
Pennies on a Platter, Cheese Bagels
and by adapted, I mean I changed barely anything and have instead only added my commentary at the end.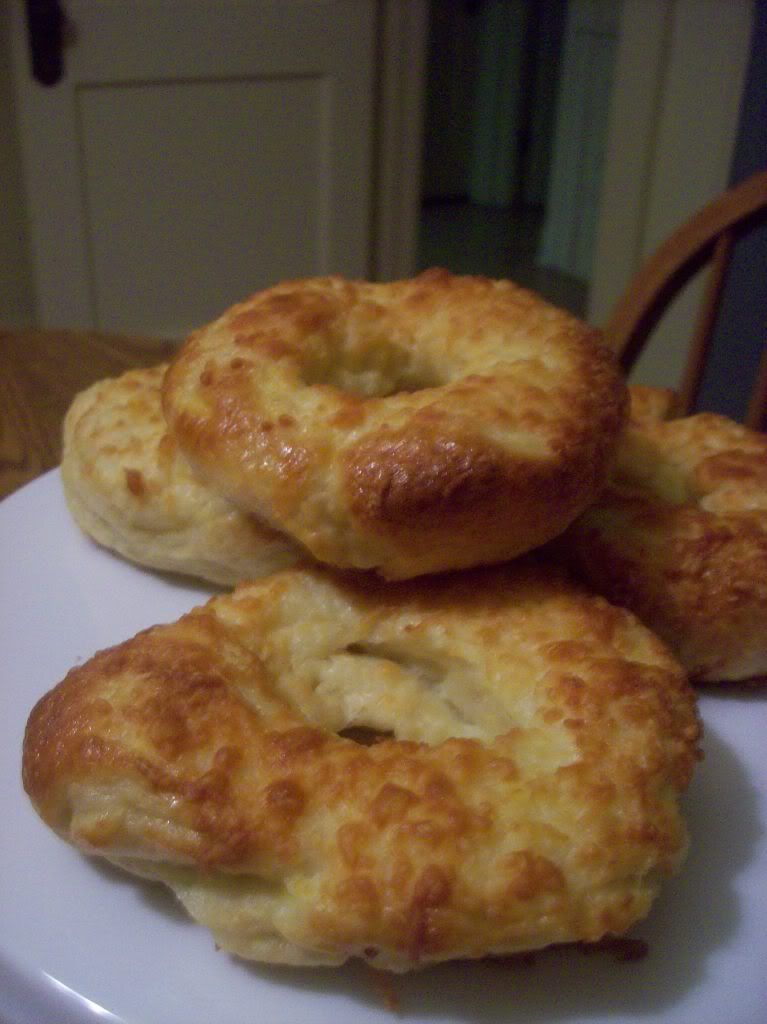 Cheese Bagels
1 tablespoon active dry yeast
1 tablespoon sugar
1 3/4 cups water warm
3 1/2 - 4 cups bread flour
1 tablespoon salt
1 egg, for egg wash
5 ounces shredded asiago
5 ounces shredded reggiano
Oil oil for coating dough
In the bowl of your kitchen aid stand mixer, pour in sugar and yeast. Add warm water and allow to sit until frothy, approxiamtely three to five minutes. Add in salt and slowly add in 2 cups of flour, one at a time using the paddle attachment. The dough will be very sticky at this point.
Add in an eyeballed 2/3's of each cheese, mixing again with the paddle attachment. Add in the last 1 1/2 to 2 cups of flour. Switch to the dough hook attachment and use on low for about 8 minutes until the dough is no longer sticky to the touch and stretches. Place in a lightly oiled bowl and allow to double in size in a warm, draft free space; usually one hour.
After the dough has risen gently deflate the dough and divide into six (large), eight (medium) or twelve (small) rolled balls. Cover with a clean dish cloth and allow to rest 30 minutes. After they have rested, poke a hole in the center and stretch them out a bit. Let rest another 10 minutes. While resting, bring a large pot of water to boil and preheat the oven to 400F (if using a baking stone, put the baking stone in the oven while it preheats).
Once the water has boiled, boil each bagel for two minutes on each side. Pat dry with paper towel and place on parchment paper. Brush on the egg wash and sprinkle the left over cheese ontop. Bake bagels for 24 minutes or until golden brown.
My commentary
So my directions above indicate how
I
make bagels. I don't have any real reason why I add the things like I do besides that I do. I'm sure someone else would make them differently. Maybe you will make them differently. Either way my final thoughts are...
I use a kitchen aid stand mixer because I have horrible wrists. If you don't, you can still make them just refer to the original link.
You can use bread flour if you have it. The first time I used regular flour and while there is a slight difference, I wouldn't put a bra on and run to the grocery store just for bread flour if I was out.
When you pat the bagels with paper towels after you boil them (which is an important step, it makes them crispy on the outside and soft on the inside so don't skip it!) don't let them sit on the paper towels, quickly put them on parchment paper or they get all gross.
Oh, and perhaps it's just my mixer but when I use the dough hook for that long my bowl gets stuck so I spray the bottom with cooking spray.
These freeze nicely so make a double batch and do what I've been doing, eating my weight in them. Which if you know me in real life, you know that's a considerable amount of weight.
Besides that, enjoy!