So I really suck at this blogging thing. I could list lots of excuses why I don't post, hectic life, up coming deployment news (different news from the first one we had a month or so ago), the holidays, but really, I'm just lazy. I'd rather lay on the couch and watch TV then try to remember my password. But let me catch up a bit...
A.'s party was fantastic! It came out exactly like I wanted it to and while my decorating and all the little details was lost on the crowd (almost all family) I was very proud. I just wanted his birthday to be special, especially considering how the Husband probably won't be here for his next one or two. I wanted to just make it special and a good memory for our family (the three of us) and it was.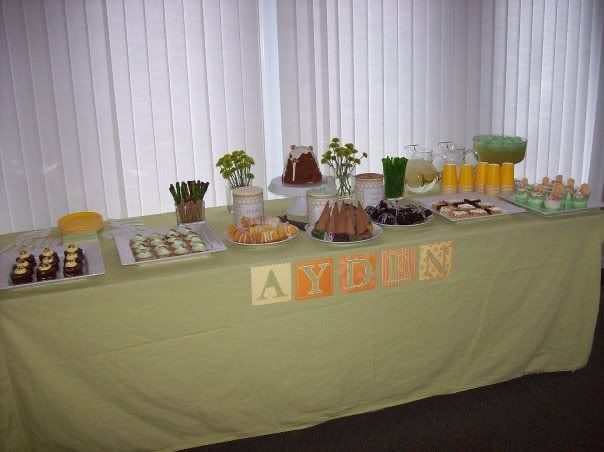 A.'s party was a dessert buffet and my mom and I spent four days making all the goodies. In the first row from left to right there are chocolate mint cookie beehives with "bees" on top, mini key lime pies, lemon individual bug cakes with glaze, sugar cones decorated with ice cream toppings, chocolate individual buy cakes, lemon squares with powdered sugar and pistachio and lady finger cups. In the back row for goodies there are chocolate covered pretzels with yellow and green sprinkles, A.'s cake, three kinds of ice cream (double vanilla, double fudge brownie and mint chocolate chip), green apple liquorish, and drinks including ice water with lemon and lime slices, milk and green sherbet punch. It turned out really nice, the colors and everything. I know the Husband thought I went a little overboard, and I did, but it was fun to busy myself with A.'s party versus stressing out about the holidays.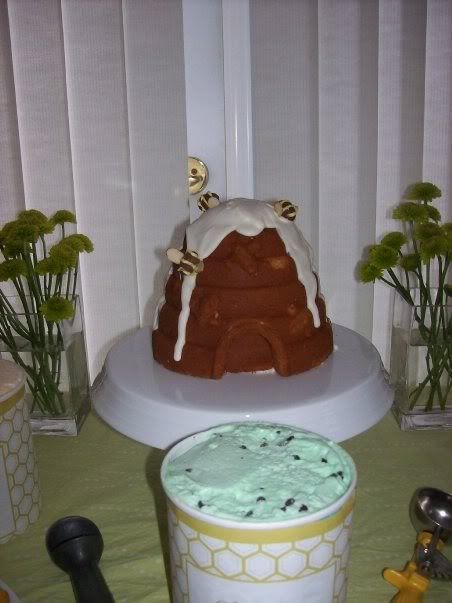 This was A.'s beehive cake. I used the cake pan that the Husband had bought me when we had been trying for a few months for a baby with no luck. It was a lemon cake from scratch decorated with glaze and "bees" made out chocolate covered peanuts with yellow icing piped on for stripes and almond slices for wings.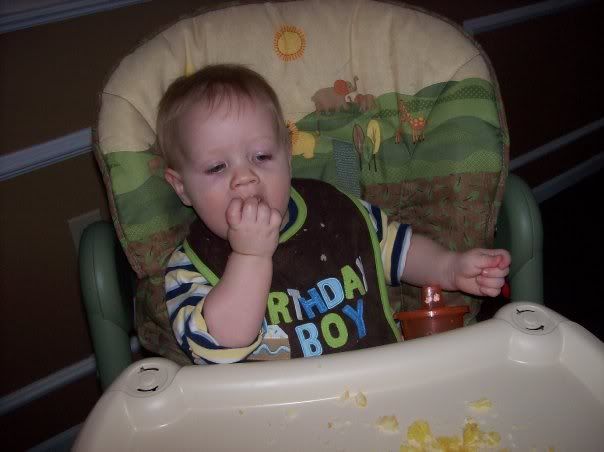 A. eating his cake. It was the second time that he had any kind of cake, the first being on his actual birthday the day before. Both times he loved it and crammed it by the fist full into his mouth.
A. with his gifts. He loved the wrapping paper and the ribbon my mom put on his gifts the most.
Us. Excuse the fact that the Husband isn't smiling, A. is looking away and the, I don't even wanna say a number, weight gain I have yet to lose from being pregnant.
One of my favorite pictures of the day. Everyone but my mom and brother had left the party and we were in the stages of vaccuming the floor and A. was getting tired so the Husband snuggled with him on the couch.
After A.'s party was done we had the holidays, which with me working retail, takes some of the joy out of it followed by a new years celebration of closing that night and getting home just in time to crack open a bottle of fake juice bubbly. Even though I'm no longer nursing I'm just not a big drinker and prefer the juice kind to the real stuff anyways, nursing or not.
Which brings us to now... we're about two weeks away from starting to actually look at houses! I'm super excited, even if the Husband isn't. It isn't that he doesn't want a house, he just doesn't care as much as I do. He's a, go with the flow we'll find a house, kinda person and I'm a type A, what is the value of this property and what are the schools like, kinda person. It should be interesting!